I think one of the happiest moments in Quinnie's life was about 6 months ago when I gave her some old makeup and perfume of mine that I was going to throw away. I was pretty surprised by her excited reaction- I had no idea she was at all interested in these things- she'd never mentioned them before. She gave me a huge hug and told me that I was the best Mom in the whole world. I had to snap a few pictures of her with her new little box of loot- to document the complete joy…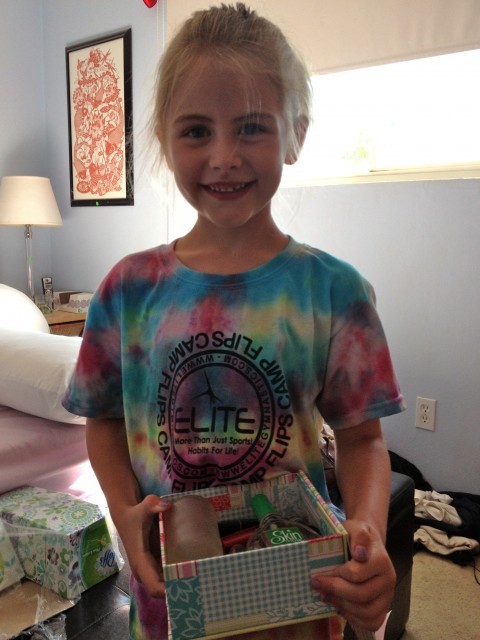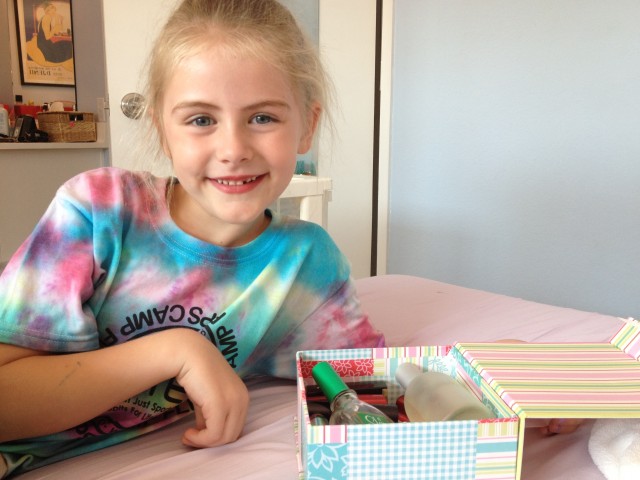 I'm not sure where this love of cosmetics comes from. I hardly ever wear any and when I do, it's not much. She was so happy that she immediately went and made this for me…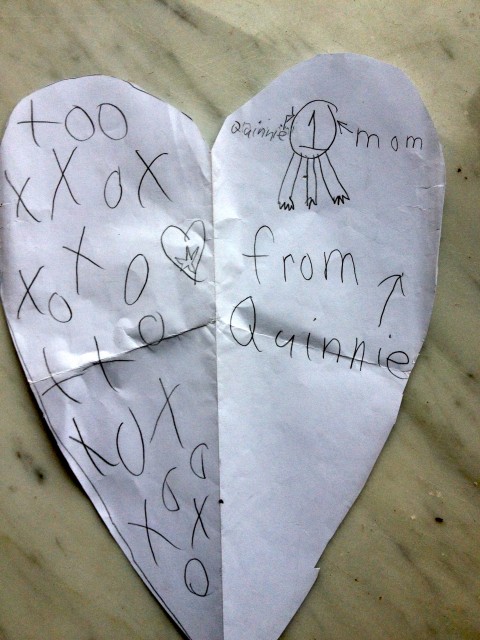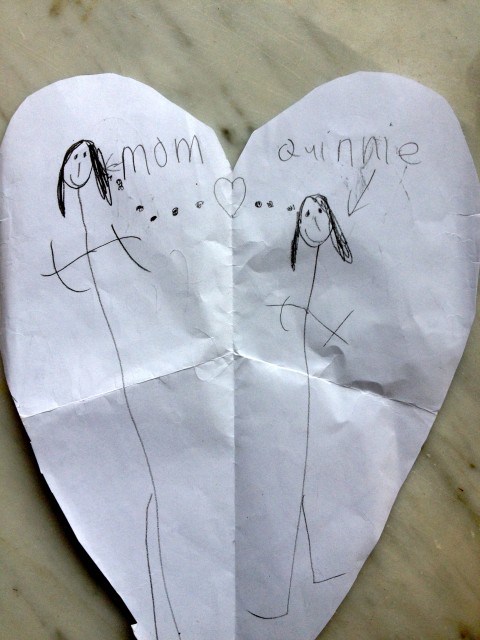 (I carry it in my wallet- that's why it's so wrinkly)
At least once a week she'll disappear into her room and come back looking fabulous and smelling delicious…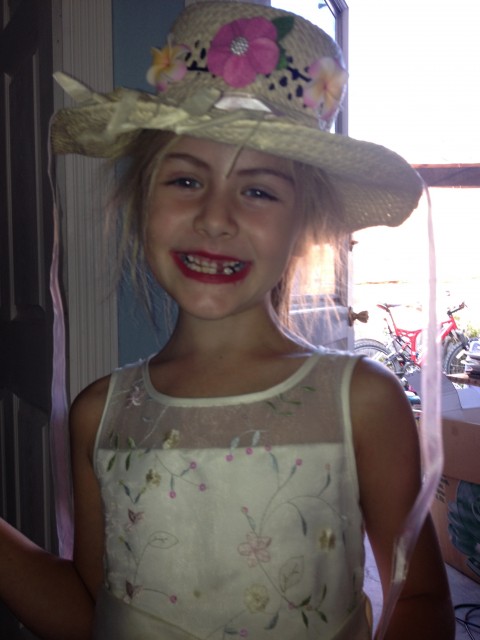 Her favorite by far is the lipstick- especially the bright red. By the end of the day it is all over her clothes, cups, our furniture (she's only allowed to wear makeup for dress up at home).
Her application cracks us up- total Robert Smith (lead singer from the band The Cure- the one with the crazy messy black hair and crazy messy red- lipsticked lips). And she is SO PROUD of how it looks.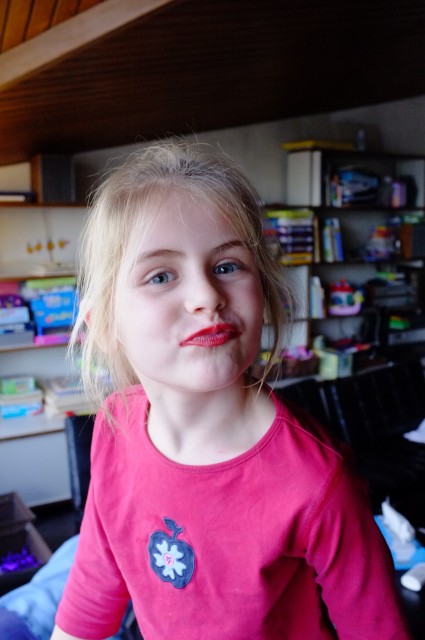 The fact that her mouth is a huge construction zone right now makes it even more hilarious. Quinnie's new teeth are coming in like a shark's- in rows. The new ones are almost fully in before she loses the baby tooth in front of it- so she has WAY too many teeth in her mouth (Simon secretly calls her Nanny McPhee!).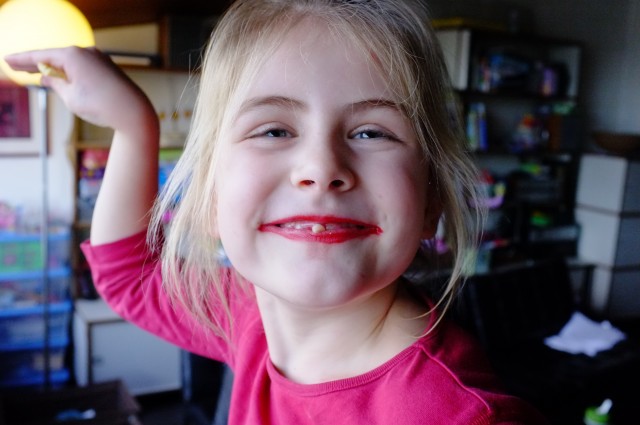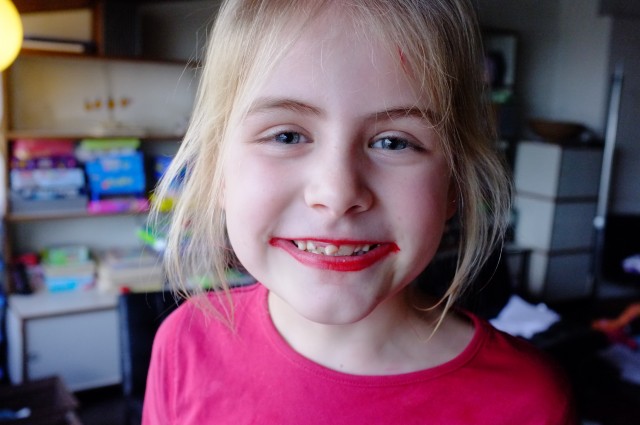 just noticed the lipstick on her forehead!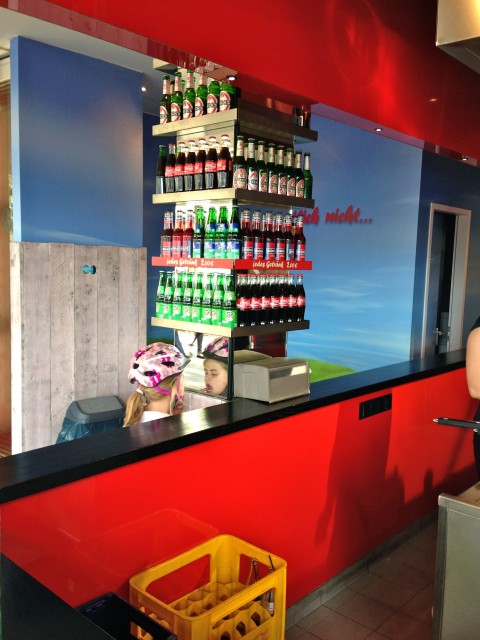 Quinnie checking out the "construction zone"
This is compounded by the fact that she refuses to wiggle her teeth and tries to keep them in her mouth for as long as possible. She has real anxiety over losing them. We just let her do her own thing and eventually they fall out while she's talking. This morning her front tooth (which has been loose for MONTHS) was only hanging on by a tiny thread. She was trying to keep it in by not talking and only drawing pictures to communicate. When I told her that she would have to talk when she goes to school tomorrow she started crying. We decided to go cuddle in her bed and within a minute of her whispering to me it fell out. FINALLY!
Quinnie has never wanted the tooth fairy to visit- she says that her teeth are too precious to her- she would rather keep them than get money or presents. Instead, she requested one of these fancy little boxes (to keep her teeth in) that she spotted at a Christmas Market last week. I told her we'd go get one after school once her other loose tooth (also hanging by a thread) falls out.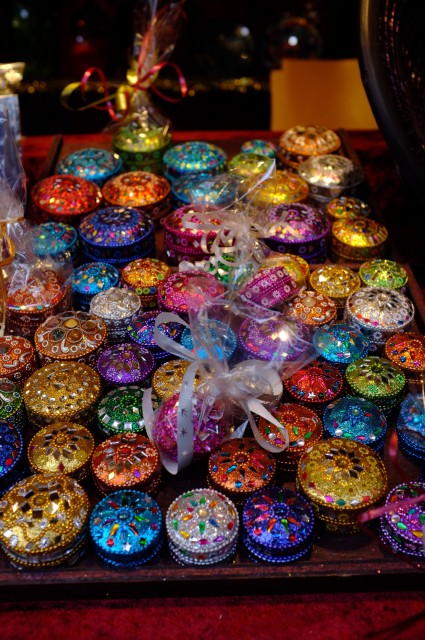 Ever since Quinnie lost her first tooth Kiera has started whispering in my ear "Mama, I have a loose tooth too!" (she doesn't- lol!)
Had to post these pics of Kiera. She and Quinnie have been adding beads to bracelets and hanging them over their ears (pretending they are hang down earrings). I remember doing this at their age with my sister also.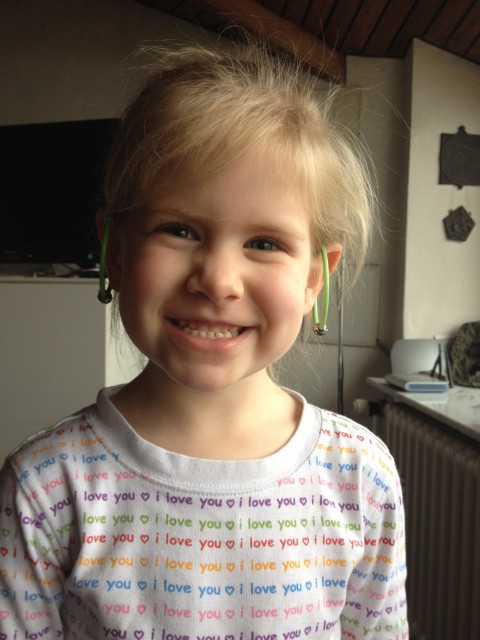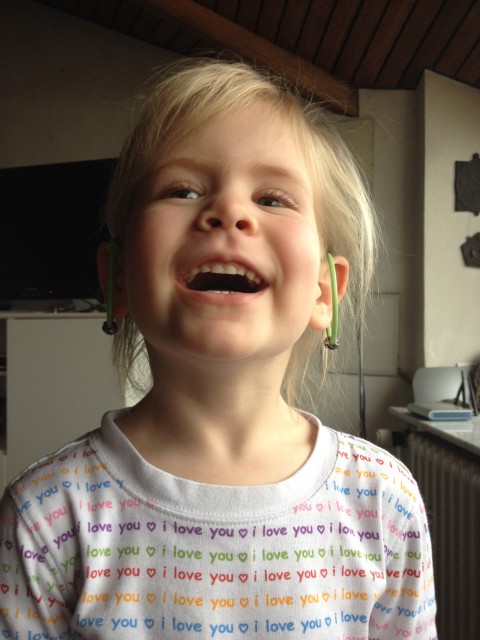 One of those full circle moments where you get to re-live your childhood a little bit. I'm so thankful for my girls.