Kölner Lichter (Cologne Lights) is a big fireworks show that the city of Köln puts on one night every July. This was the 14th year that they've done it and we were pretty impressed by it! We felt pretty spoiled that we had some of the best seats in the city- from the tower of The Weckschnapp!
A few days before the scheduled fireworks many port-a-potties were delivered outside our place and all along The Rhine. That's when I started to realize this was going to be a big deal.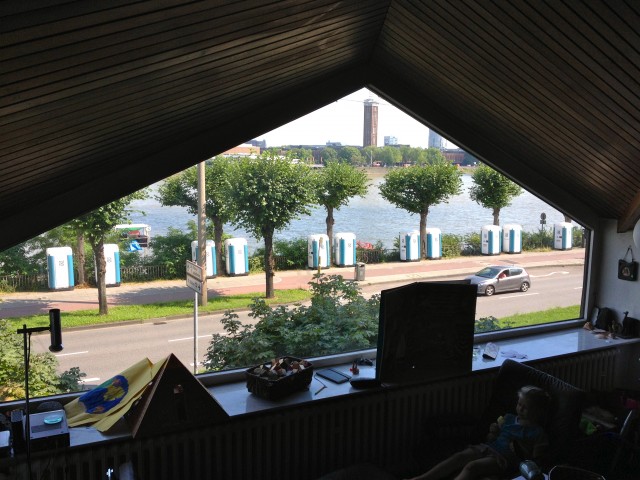 When I woke up at 8 am there were already people saving their places (with their beach chairs and coolers) all along The Rhine. Later in the day they shut down the streets so that they became pedestrian only and the people started coming…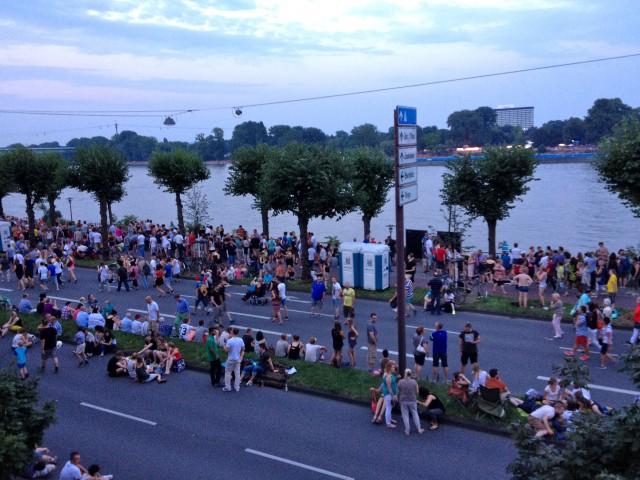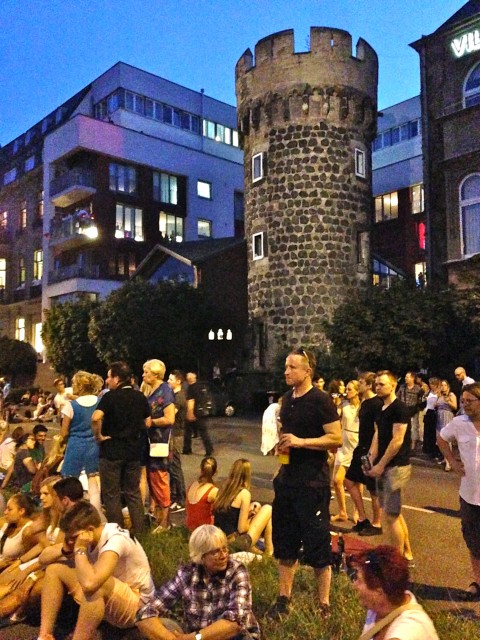 The tower in the background (and home attached to it) is our place. We watched the fireworks from the top of the tower. I know- how lucky are we?! We move into our new apartment in a month- this was our last fireworks show from The Weckschnapp, so we soaked in the experience as much as we could. Simon snapped this on his way home from work.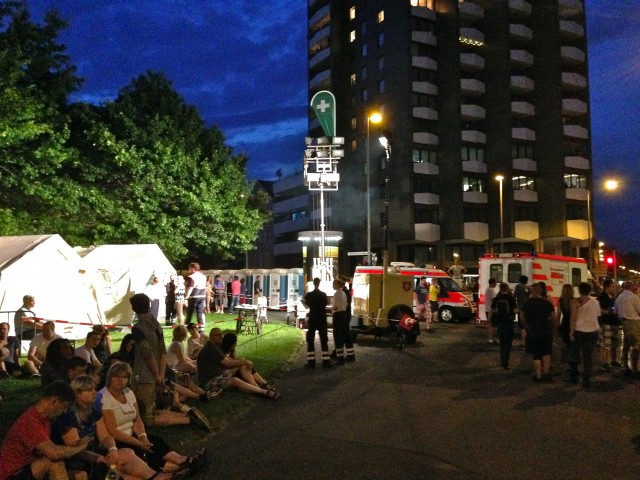 He snapped this one also- a makeshift infirmary/ triage area on the corner of our street.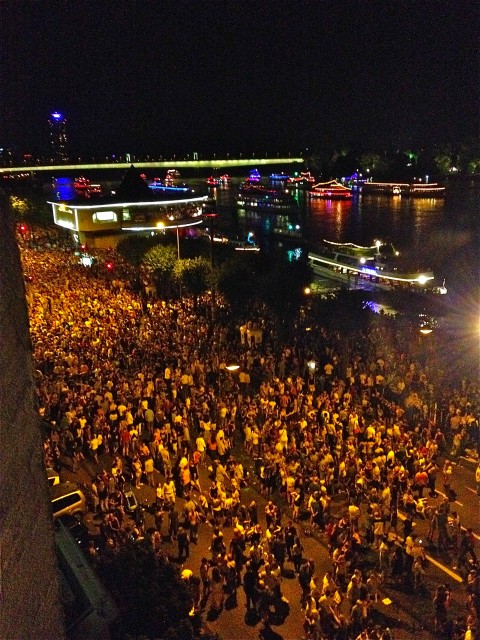 Crowds getting larger and more and more boats on The Rhine…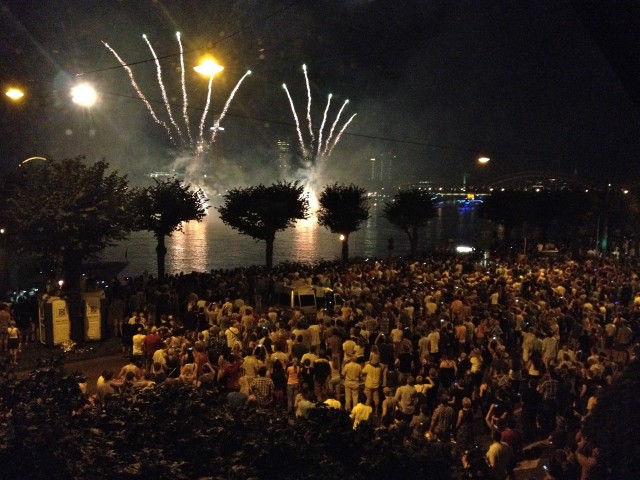 First we watched from our living room window…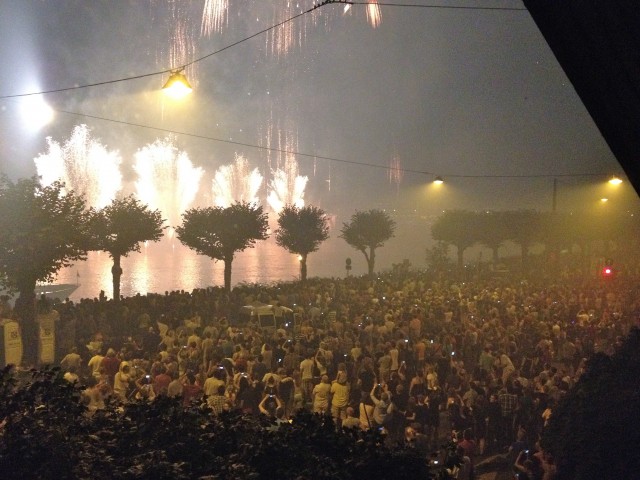 Check out all the cell phone lights in the crowd…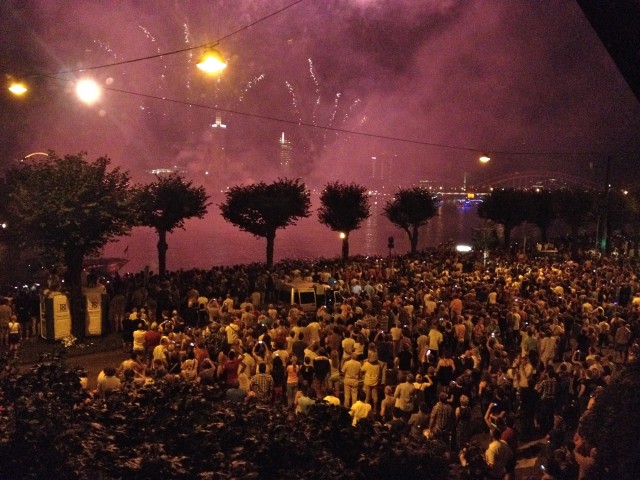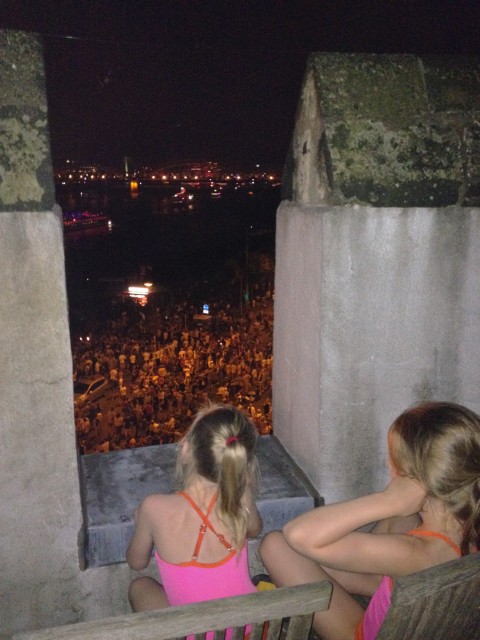 Then we headed up to the top of the tower to watch.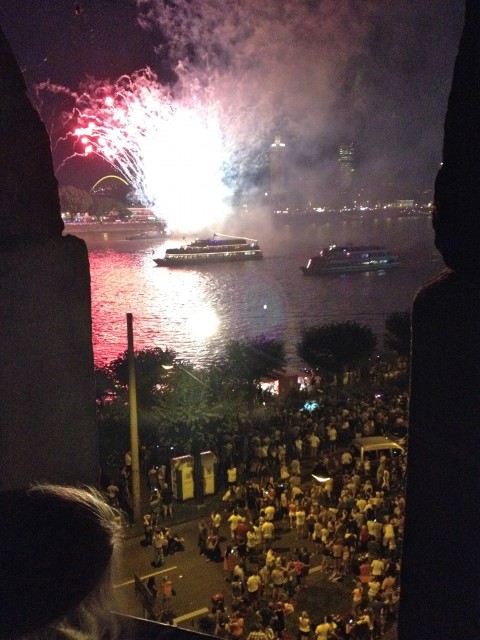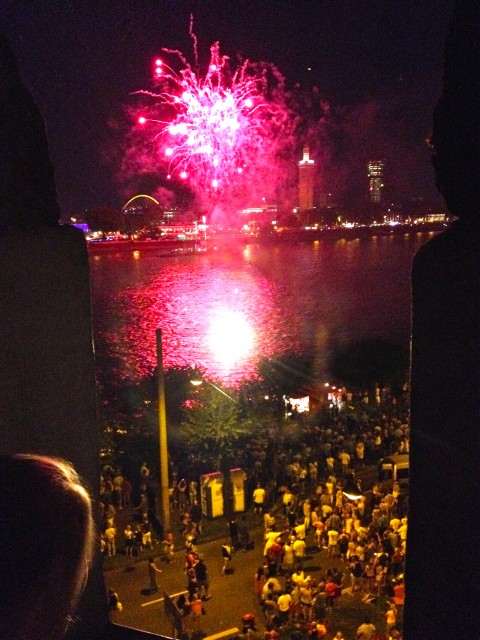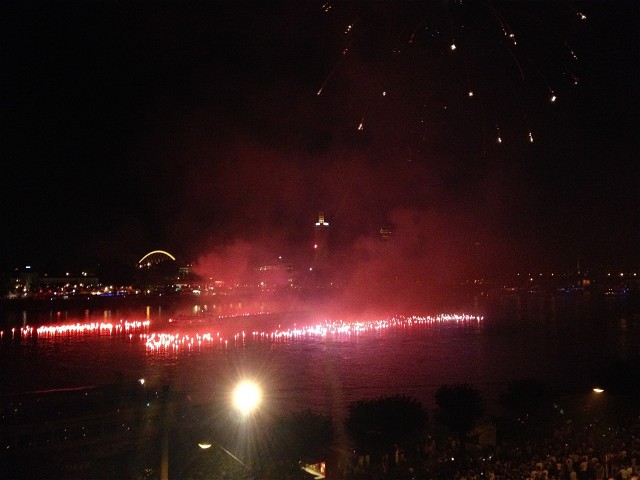 See those little red lights floating on the river? They float in small boats down The Rhine (and come in all different colors).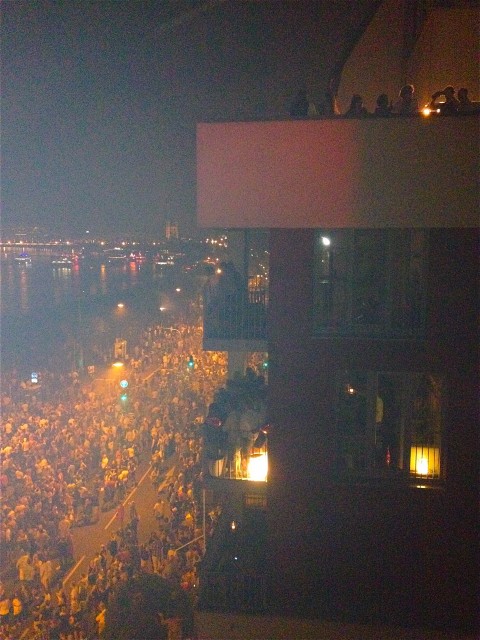 Photo of apartment building next door (smoky from the fireworks). Do you see how many people are on that second balcony?! I pointed it out to Simon, who replied, "Don't worry- it was made with fine German engineering." Lol- one of his favorite things to say..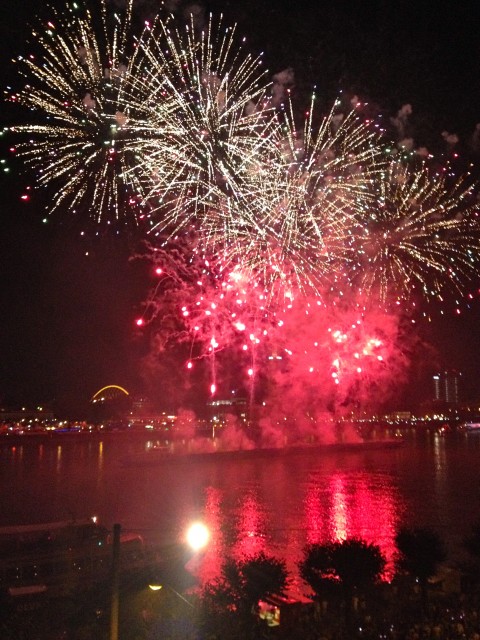 Huge fireworks barge on the river…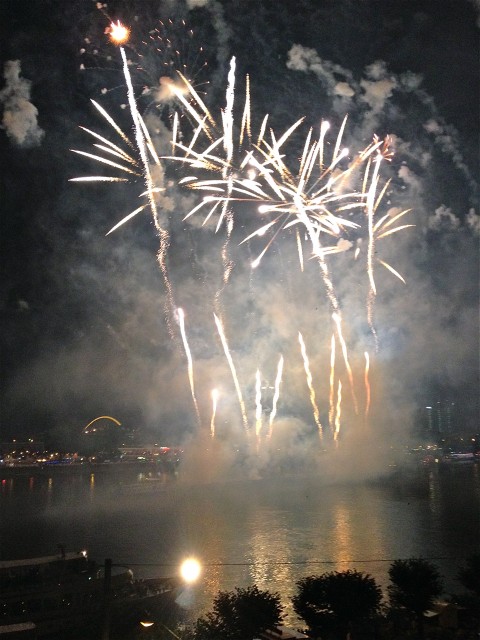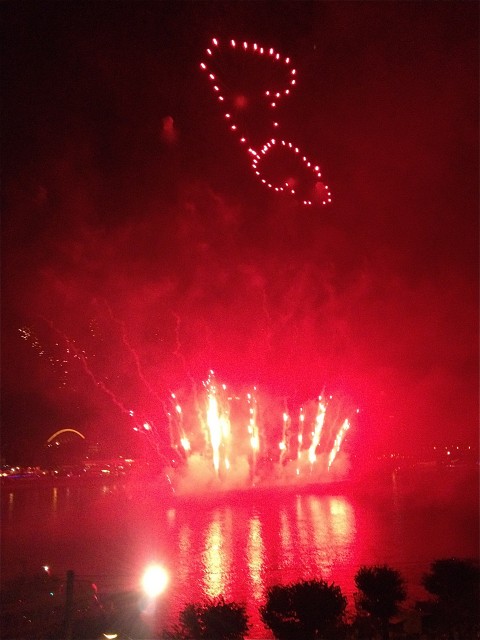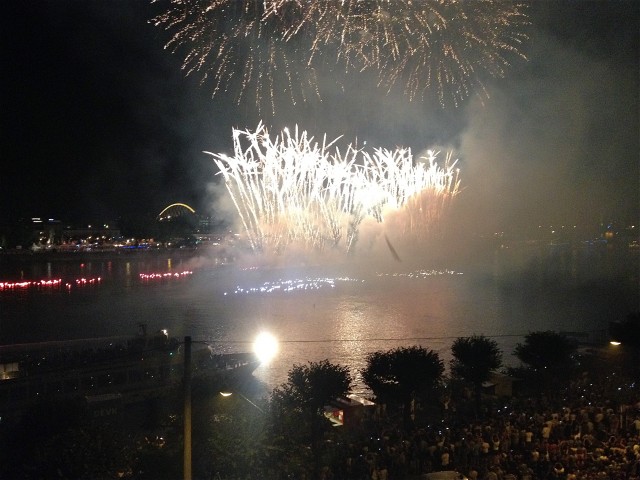 more of those little lights floating…
Below are two videos of some of the fireworks. Our bodies were covered in fine ash from the fireworks when the show was over. It was SO loud- it felt like bombs were dropping all around us. You could feel it in your body.
Everybody went crazy when they played the song "We are the Champions" because of Germany's World Cup win.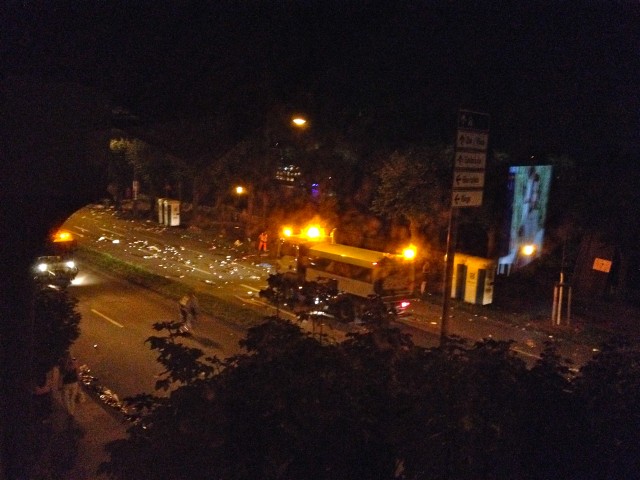 Within two hours of the the fireworks being over the clean up crews were hard at work all night long. There were mounds and mounds of beer bottles and trash everywhere. By morning everything looked great! Thank You city of Köln!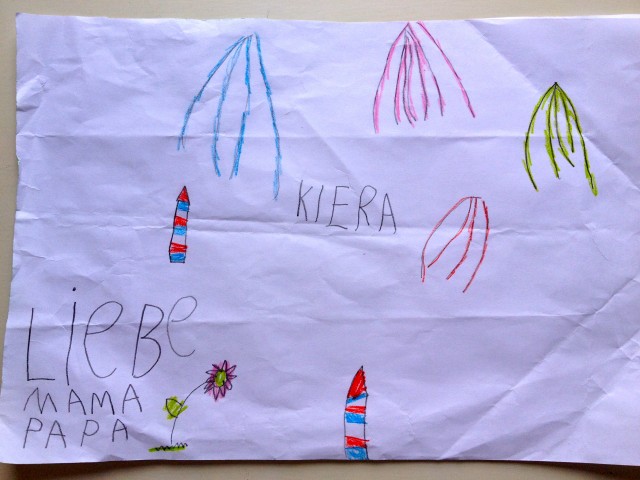 Kiera documenting the fireworks with her art work