Of course deciding to move to Germany on a whim and the realities of making it happen are two very different things. Once Simon accepted a job offer we had 6 weeks to get to Germany, which also worked with the start date of the new school year for the girls.
The to- do list was mind boggling and I had to do most of it by myself (while taking care of the girls) since Simon had to work almost right up until when we flew out. We had to do renovations to our home so that we could rent it (no way we could sell it since we are upside down on our mortgage like lots of California home owners). This included a completely new bathroom, new carpeting, and painting almost all of the interior walls.
Trying to organize and pack up a home that you've lived in for almost 8 years is incredibly overwhelming- it's amazing the things that accumulate when you have kids. It felt good purging/ donating lots of stuff that wasn't essential to our lives, but I also had to organize our belongings into two different moves- half of our stuff was going to Germany, and half to a storage facility across the country in New Hampshire. To get quotes on shipping/moving costs I had to spend almost an entire week going through all of our belongings 6 different times with 6 different moving companies (for both domestic by van and international by sea moves).
Then… while all of this was going on Quinnie had to be admitted to the hospital for 3 days (which meant Mama was with her of course). Then the plumber putting in our new tub upstairs hooked up the water pipes wrong and flooded the first floor and the inside of our walls. Which meant no packing or even living in the house really for almost a week while they pulled up our floorboards and opened up our ceiling to dry them out. The plumber had to come back 3 more times to get it right. And the wood floors had to be re-done twice because they put in some water damaged floorboards.
Then Kiera got sick. We also had to find a rental property manager for our place, sell 2 cars, renew passports, drive to LA to the German Embassy to get the girls' German passports. The night before our flight we were up all night painting- it was THAT close. I look back on that time and shudder. I don't know how we did it. But we did. Somehow. (Thanks to my Mom and my friend Melissa for helping!) And it was SO worth it. Here are some pics of the start of our adventure… Kiera is obsessed with airplanes (she says she wants to be a pilot) so flying in one is always SO exciting for her.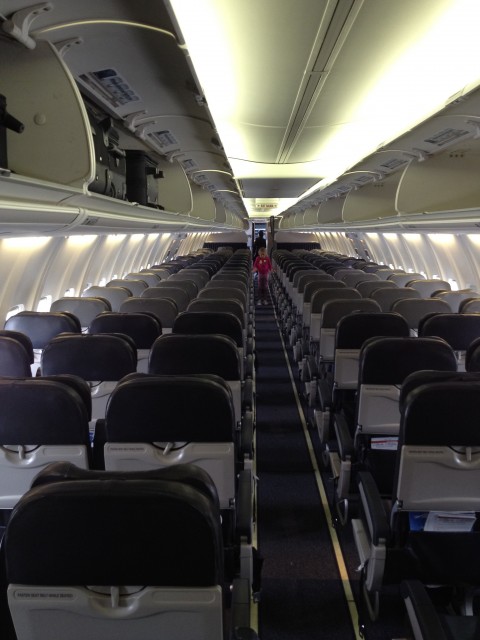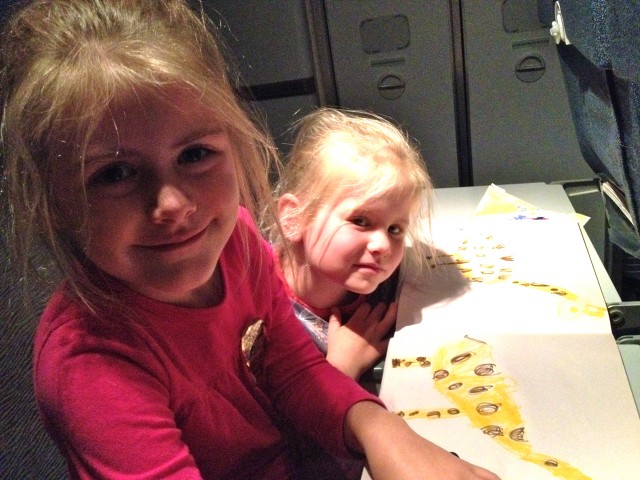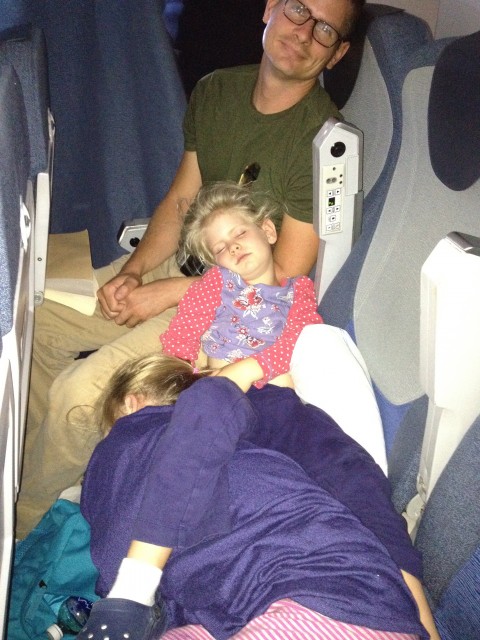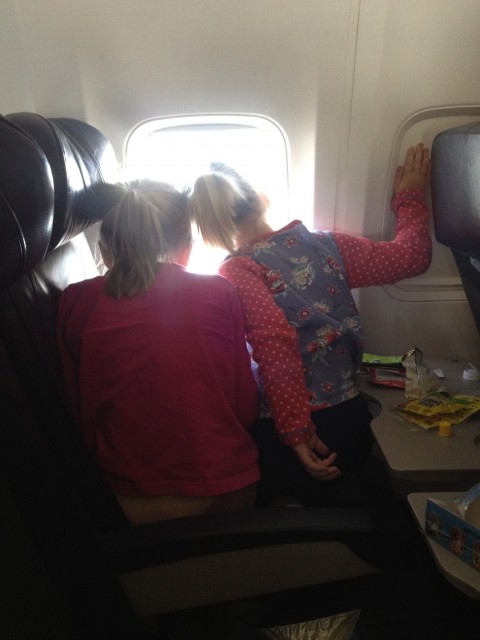 All photos on this blog so far are iphone photos (until I sort out my camera situation).