I can't believe my baby is 5.  I can see the changes in her daily. The shape of her face shifting, her limbs elongating, her layer of baby chub melting away. I'm trying not to feel too wistful, because what is emerging is a lovely girl- a baby no longer.  Kiera has always been our little spitfire and I have a feeling she always will be. She knows what she wants and isn't afraid to tell you how she wants it- and usually doesn't care if you like it or not (lol). But her personality is also blooming in wonderful ways- she's becoming more playful and sweet.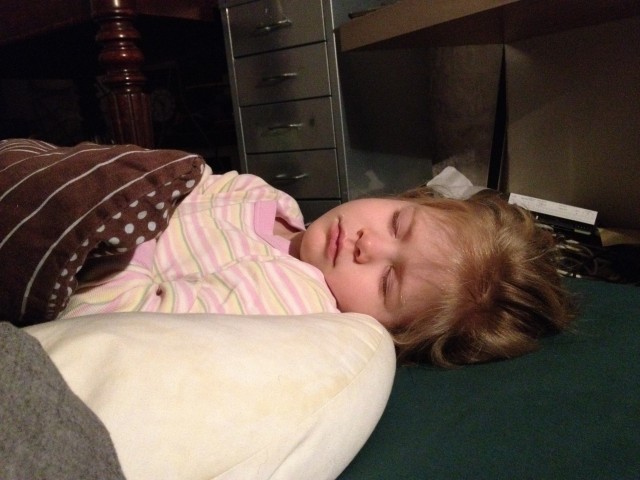 Wake up Sweetie Pie- it's your Birthday!!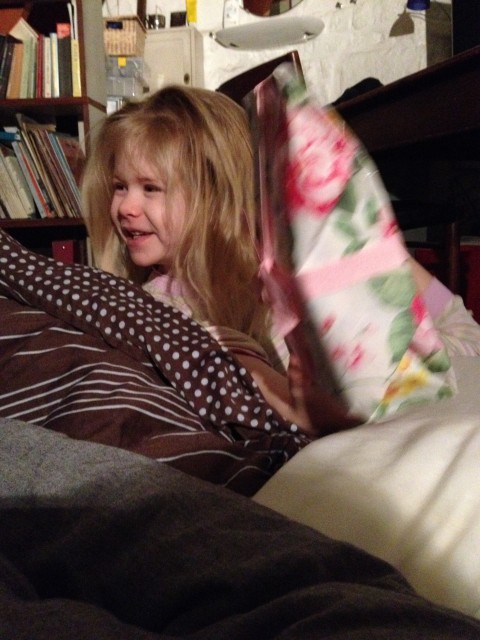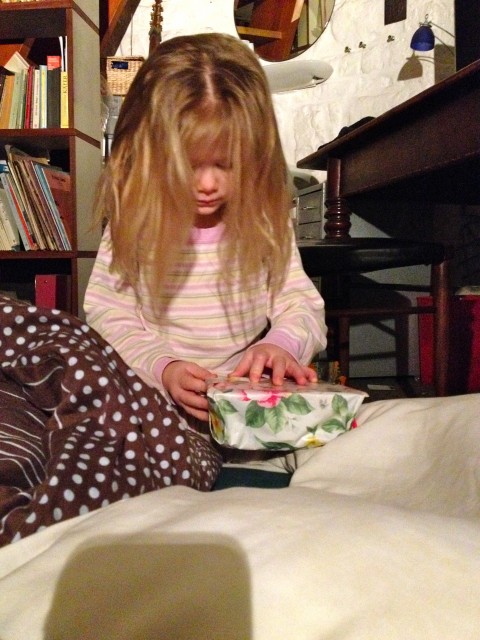 Opening her wake up present…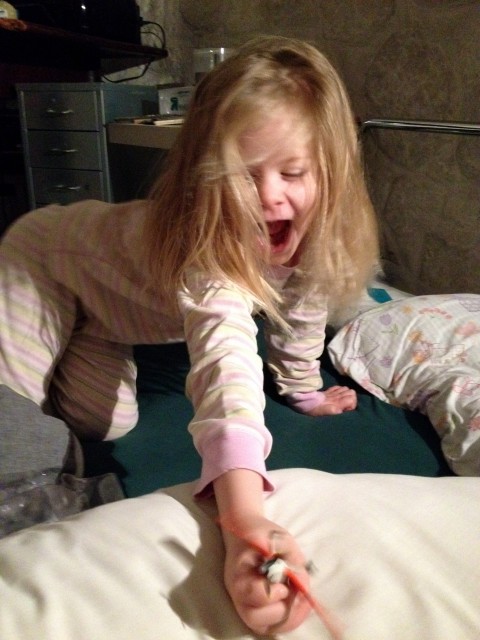 I think she likes it! (it's an airplane)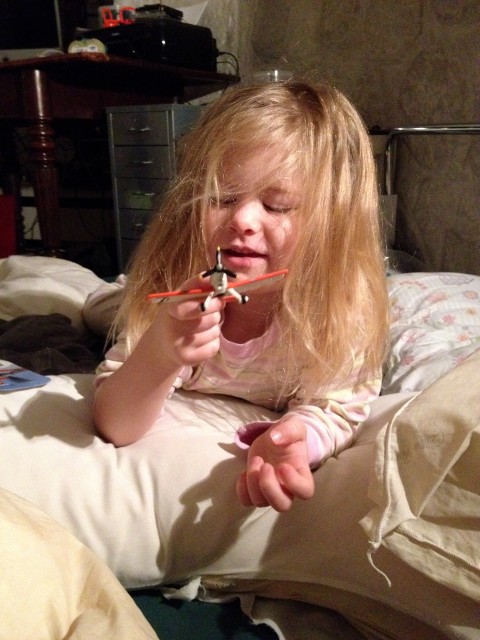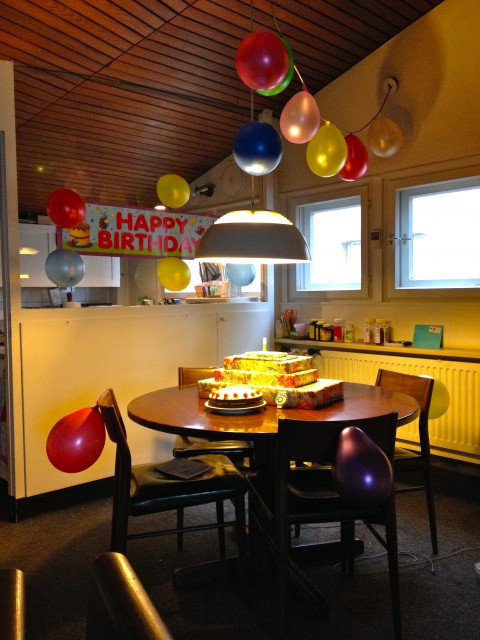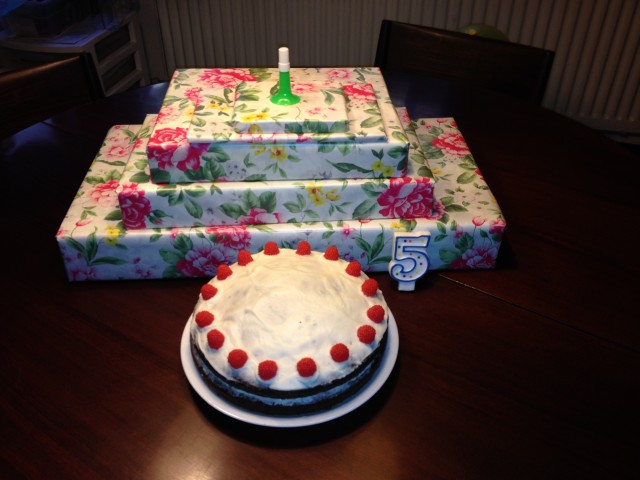 Kiera had very specific instructions on how her birthday cake should look- there were some long discussions- luckily she's easy to please (in this case at least!). See that little green plastic horn on top of the presents? I think that was one of her favorite things from her birthday- she cracks me up!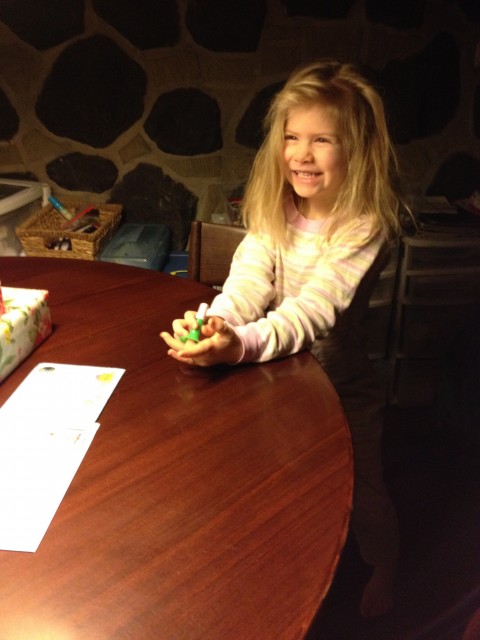 Face beaming when she saw her cake and decorations. This is the first birthday that Kiera has been REALLY excited about. Every time you mention that she's 5 now she gets this expression on her face (above). She also mentioned to me, "Mama- I'm 5 now so I can run as fast as Quinnie a little bit!"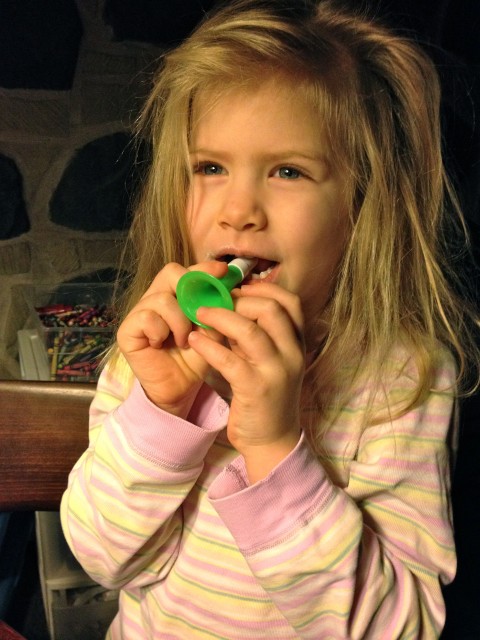 See what I mean about the horn?!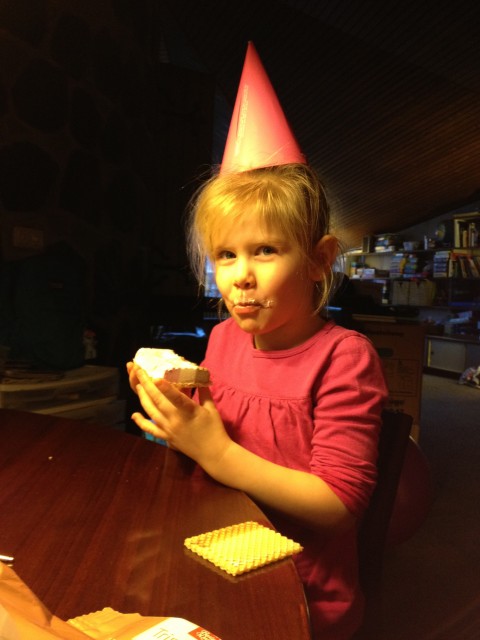 We brought a huge box of Dunkin' Donuts to her school for her and her classmates. The teachers made her an adorable birthday crown. After school she got to have an ice cream treat.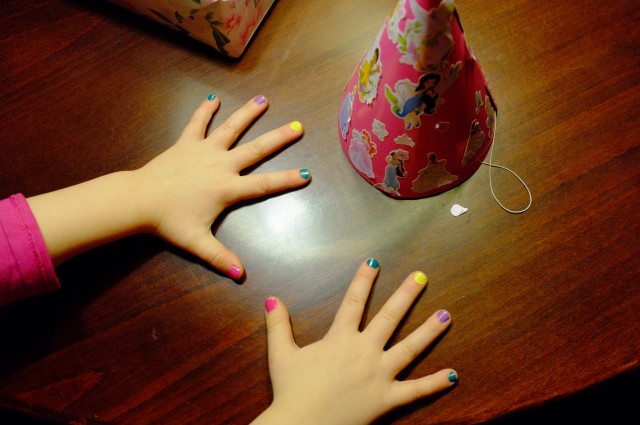 Then we painted party nails and decorated party hats. Kiera has always loved having her nails painted (we don't do it very often). When I paint the first stroke of nail polish on her nail she always does the cutest breathy laugh- like she can't contain her joy. I don't know if it's because it tickles her, or she's just so happy that her nails are being painted. I need to get it on video one of these days…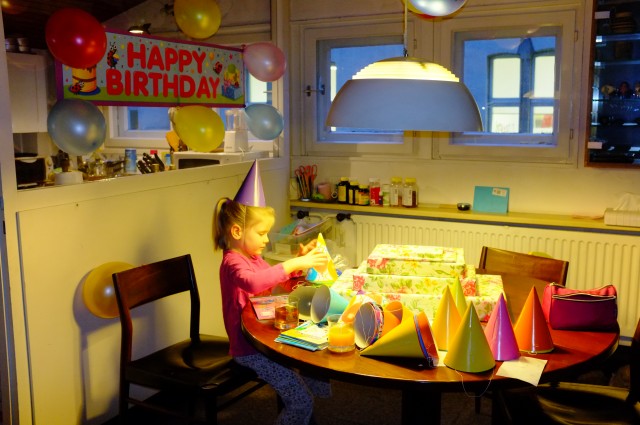 A few days before her birthday Kiera requested party hats for her birthday. Luckily I had brought some leftover ones from The States because I wouldn't know where to find them here. She insisted that everybody had to wear one. I cannot tell you how much fun she had with these hats. She spent hours- yes hours- organizing and playing with them. I think she wore every color at some point throughout the day (and the next week). I kept trying to pick them all up and put them away but kept finding them in strange places all over the house.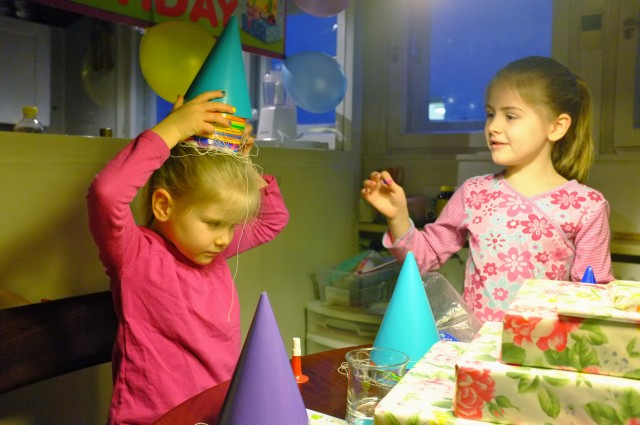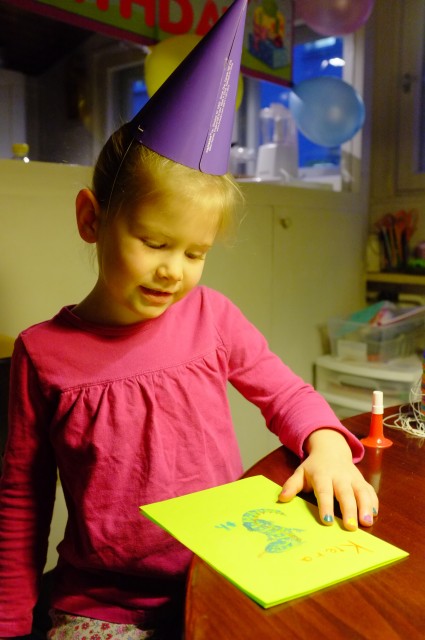 Reading her homemade cards from her cousins Madeline and Audrey in America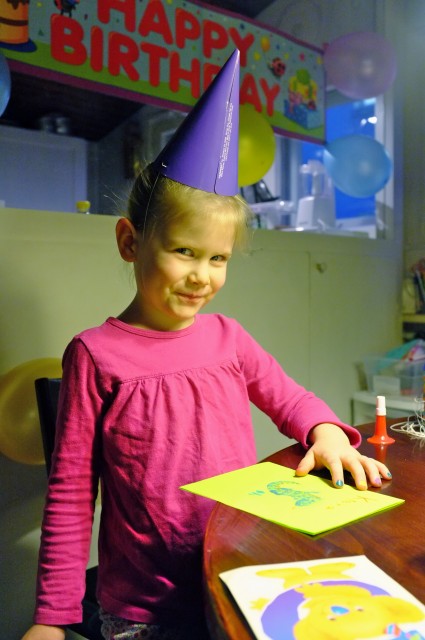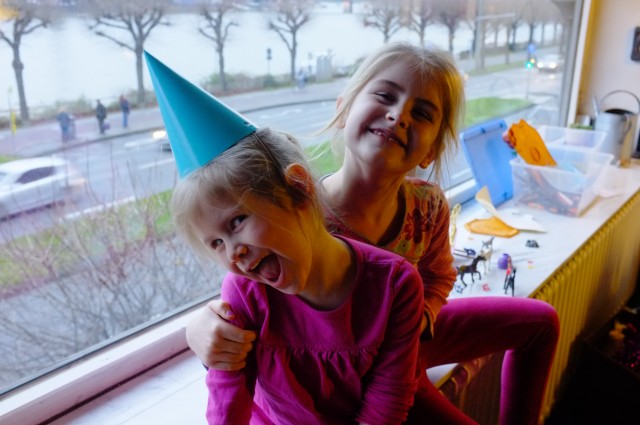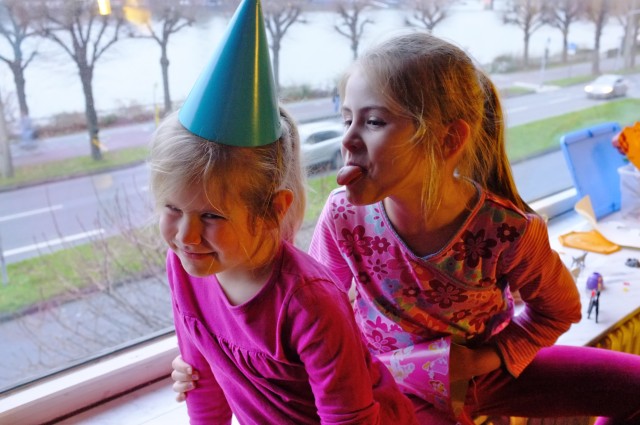 Surprisingly, Quinnie  had a hard time with some jealousy issues on Kiera's birthday- probably because Kiera was getting most of the attention. Tante Ruth was so smart and thought ahead to bring Quinnie the PERFECT consolation present- a stuffed animal Guinea Pig. Thank You Tante Ruth! She loves that thing something fierce!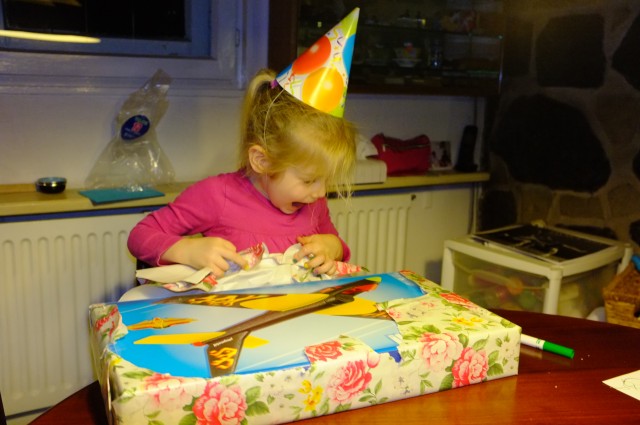 Kiera's absolute favorite present was this Playmobil airplane that you can throw across the room. She never even asked to open the rest of the presents that Simon and I bought her!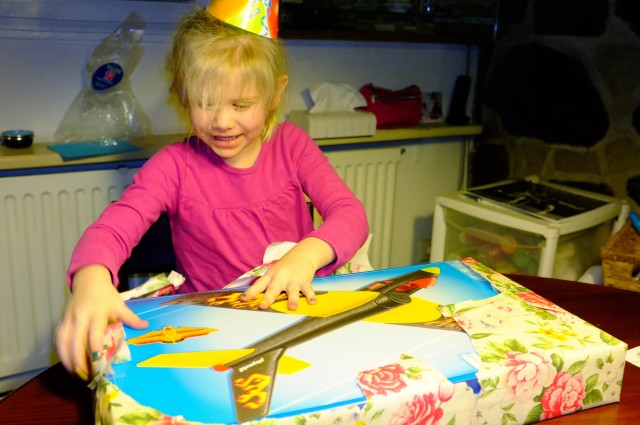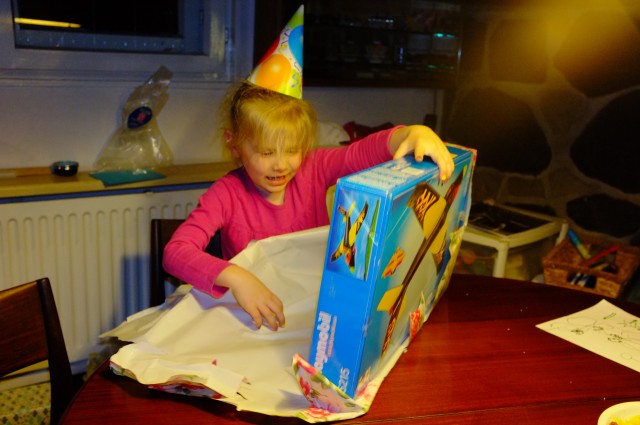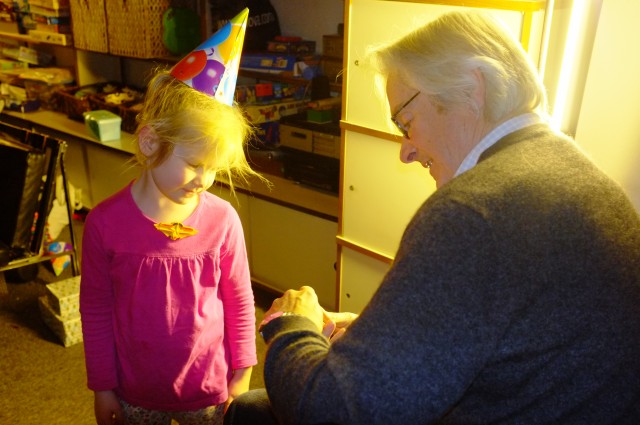 Kiera watching Opa's every move as he puts the airplane together. Check out her pilot wings on her neckline…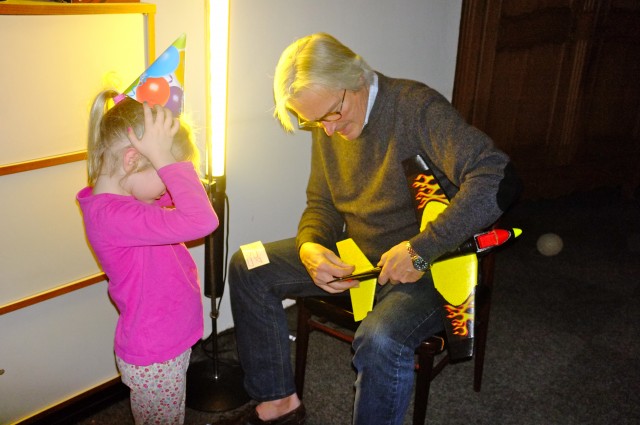 Hurry up Opa!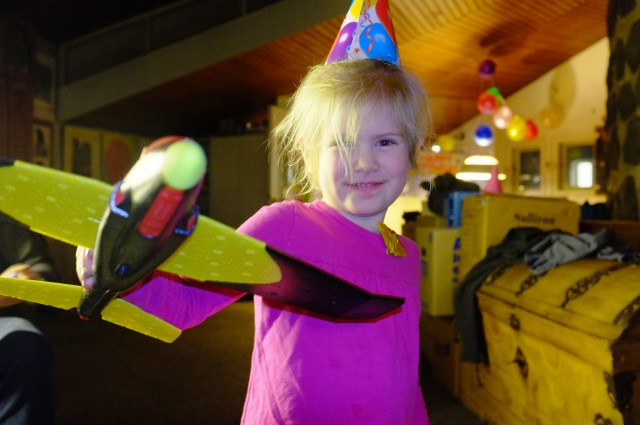 She spent the rest of her birthday throwing it back and forth across the room with Quinnie.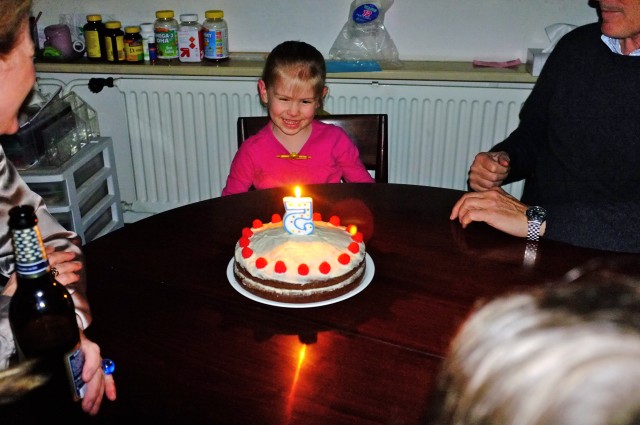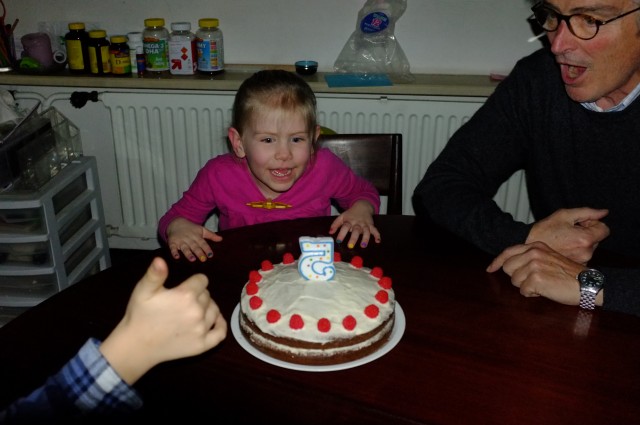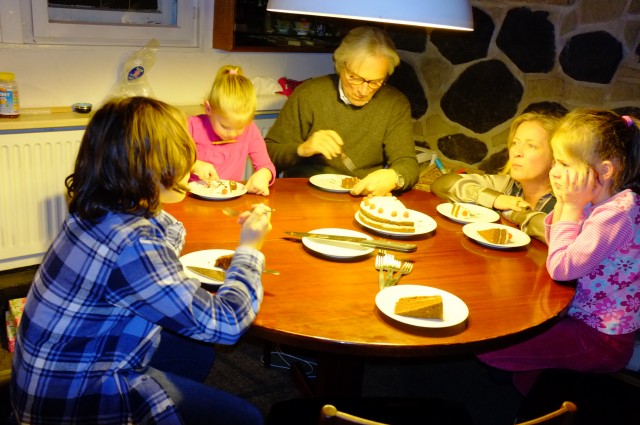 Look at Quinnie's expression (lol!) The next day we had a long conversation about trying to be happy for people we love even when we're feeling jealous.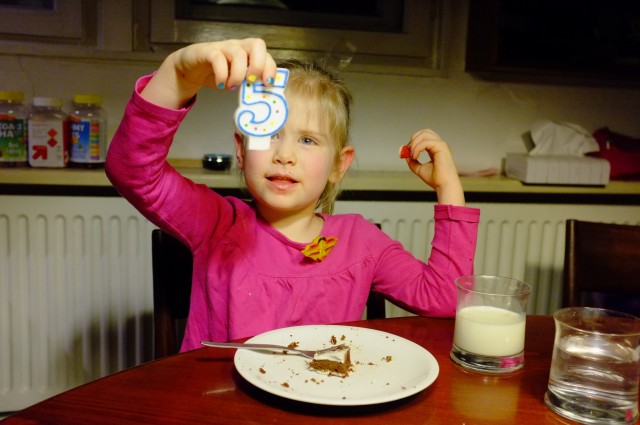 Happy Birthday sweet girl. We love you SO much!!!