At the end of every school year, all of the classrooms on Quinnie's floor at school go on a camping trip together in Mandersheid (about a 90 minute drive outside Köln). Families/ siblings are also invited, but the students usually camp together in their own tents.
Simon and Kiera went with Quinnie, while I stayed home. This was my first opportunity to have more than half a day of "alone time" in almost two years, so I jumped at the chance. I had three relaxing, restorative days to myself. I was able to read two whole books uninterrupted! It was blissful, but I still missed my girls. After seeing the photos Simon took at Mandersheid though, I think I may have to go next year. Simon called the place Kinder Paradise. The girls had a BLAST.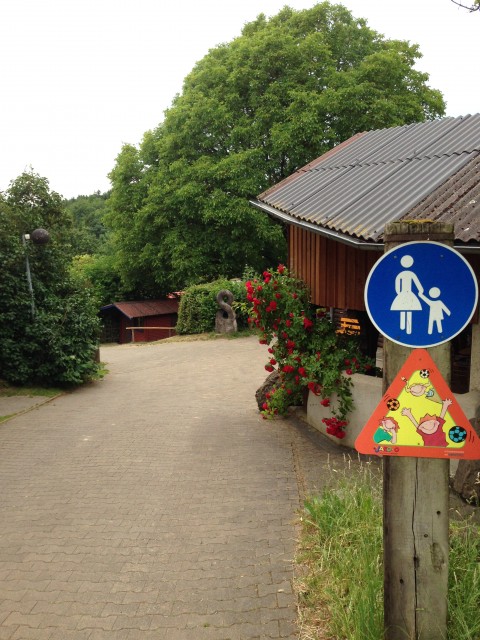 arriving at Mandersheid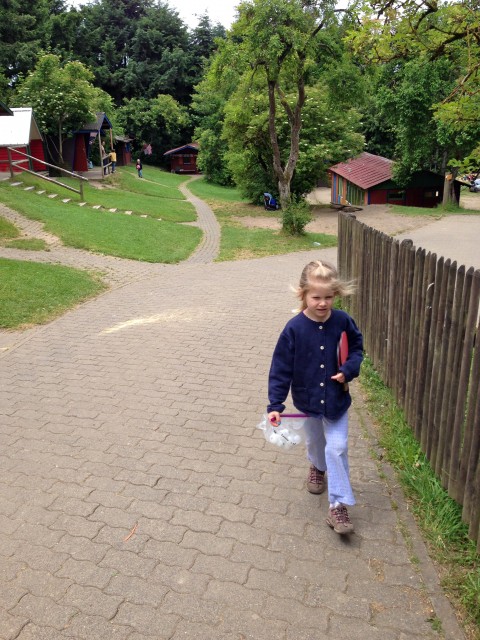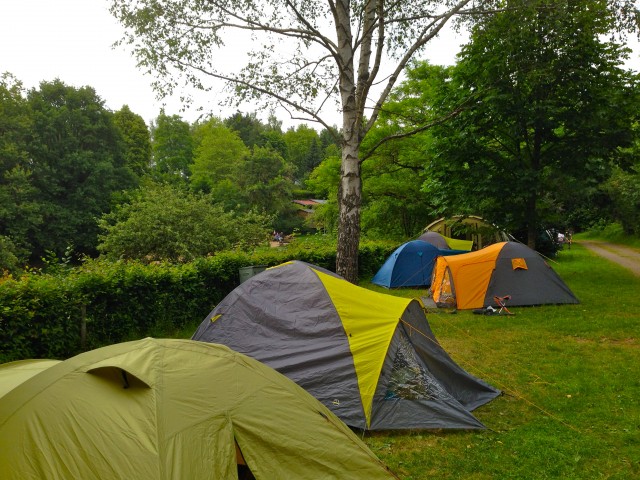 Tents for the students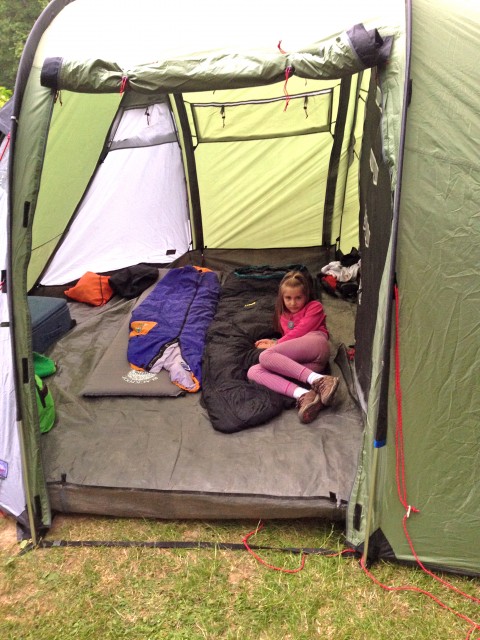 Quinnie's tent (she actually slept in a few different tents as more and more of her friends arrived).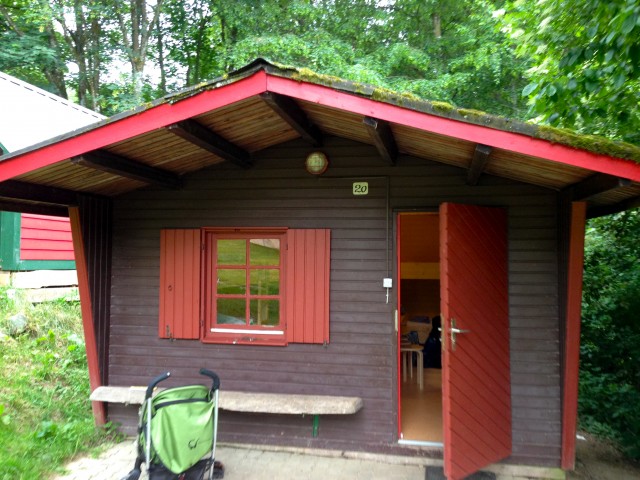 Simon and Kiera's hut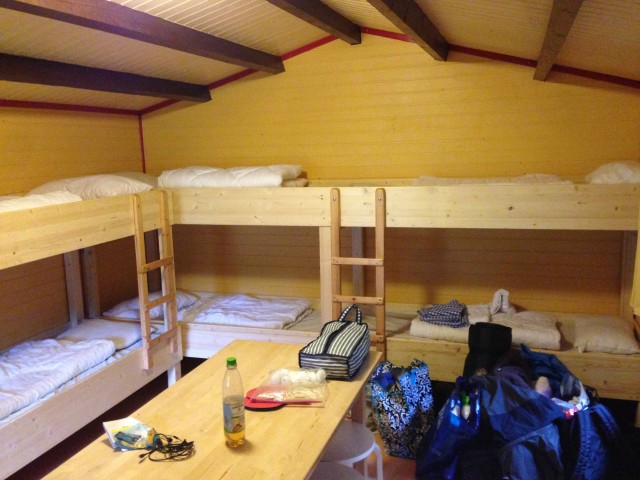 inside the hut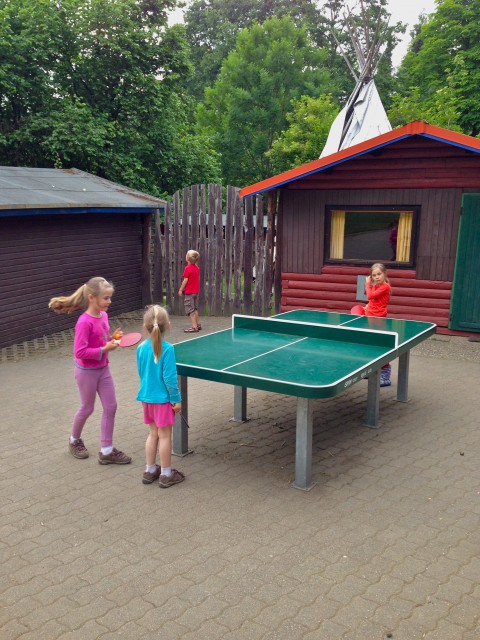 The ping pong table was a BIG hit- especially with Kiera, who asked to play numerous times a day. Check out that Teepee behind the cabin!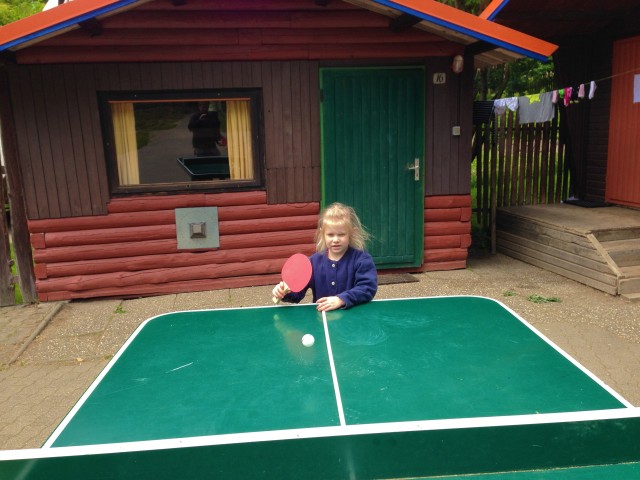 Can you tell that Papa didn't brush their hair once the whole 3 days?!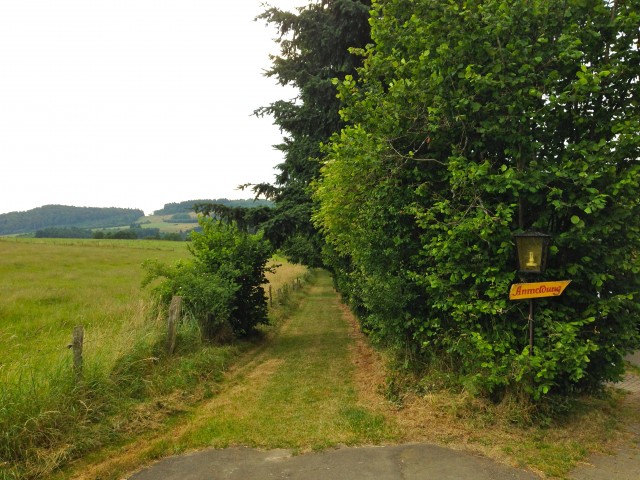 Lots of beautiful hiking trails…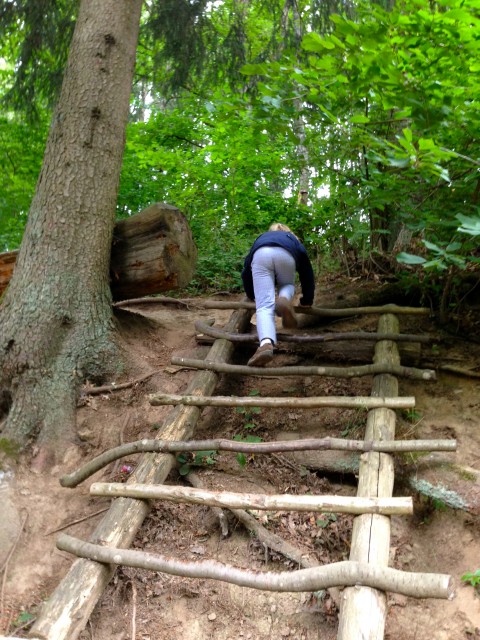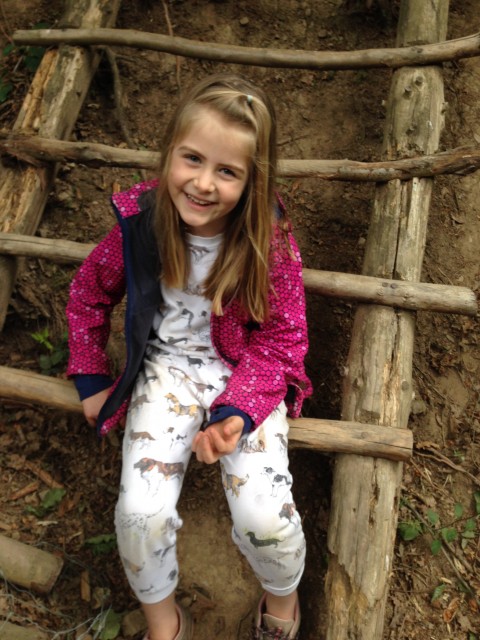 You can tell Mama wasn't on this trip- Papa let them wear their pajamas all day (despite my careful packing of the perfect camping clothes!). The pajamas were black by the time they came home- absolutely filthy. Also notice- no socks with their shoes on their hike. And yes- they got blisters!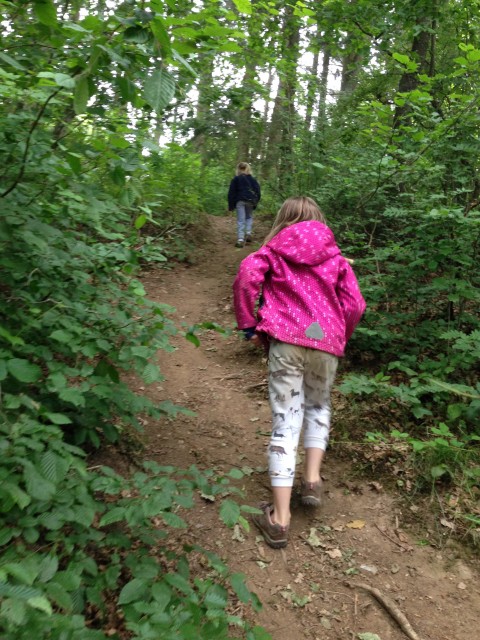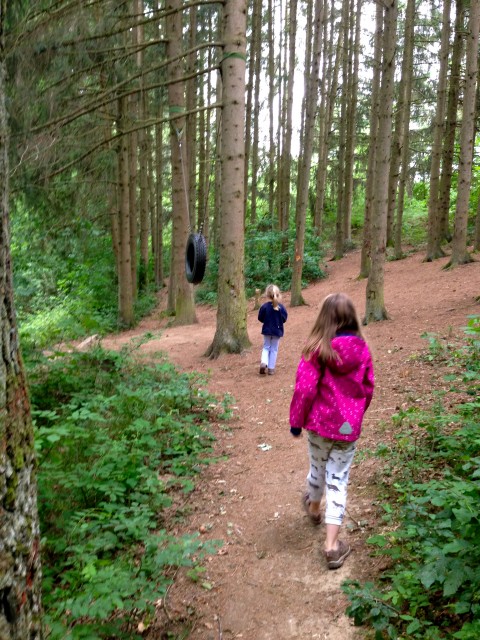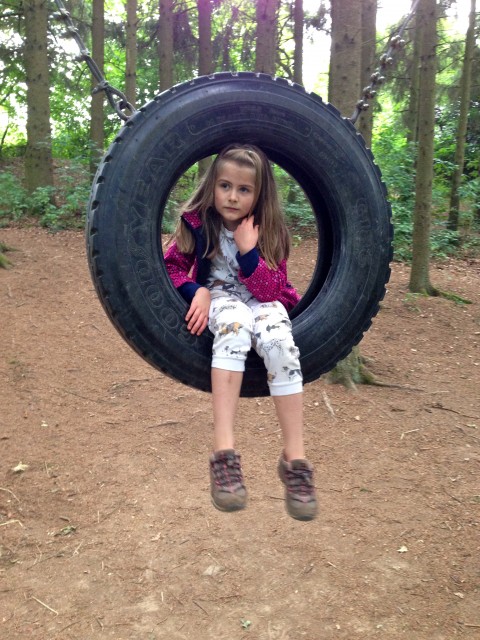 tire swing in the middle of the woods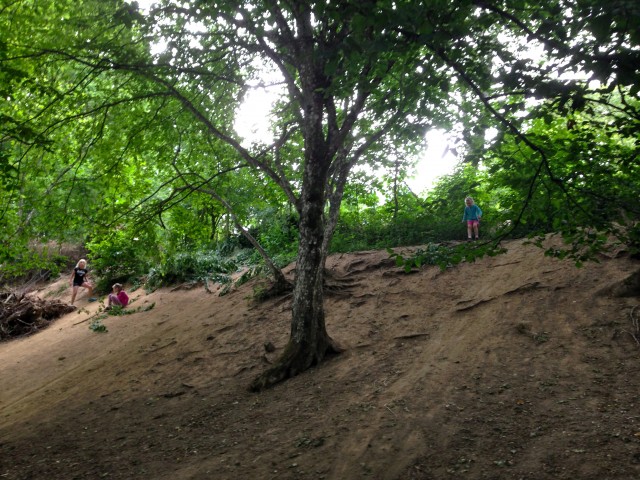 The kids named this hill Todesschlucht (Death Canyon), and had fun running down it over and over again.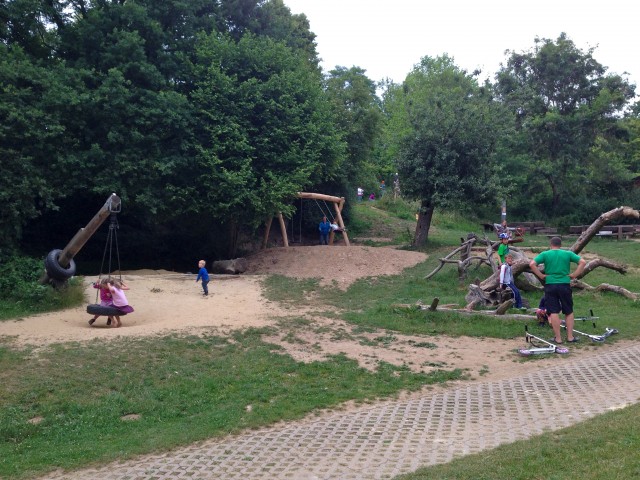 cool playgrounds
Quinnie and her friends
Simon said one of the coolest things about this place was that you could just let your kids run free and not worry because it was a safe, enclosed environment, and everybody was watching out for each others kids.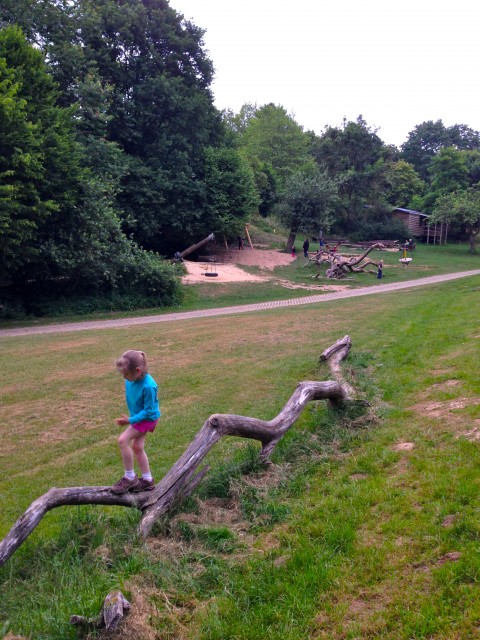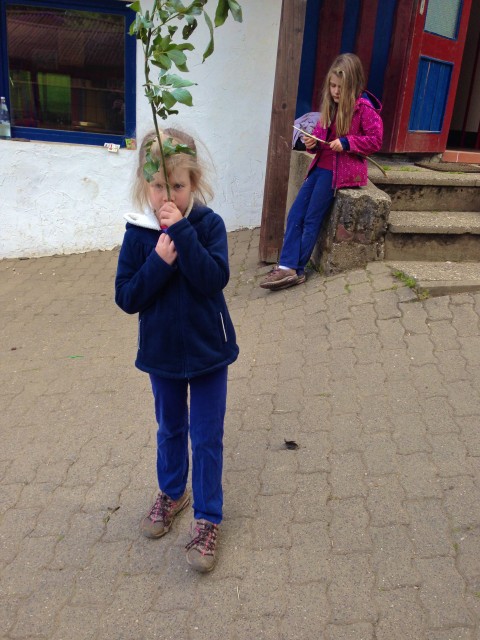 That's Quinnie in the background whittling a branch (and Kiera collecting leaves and branches).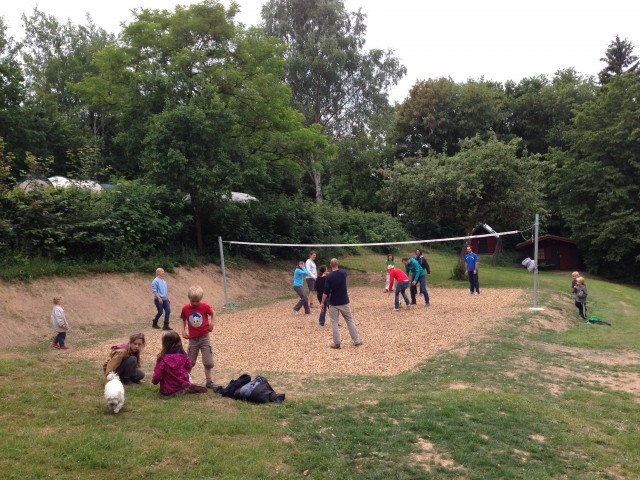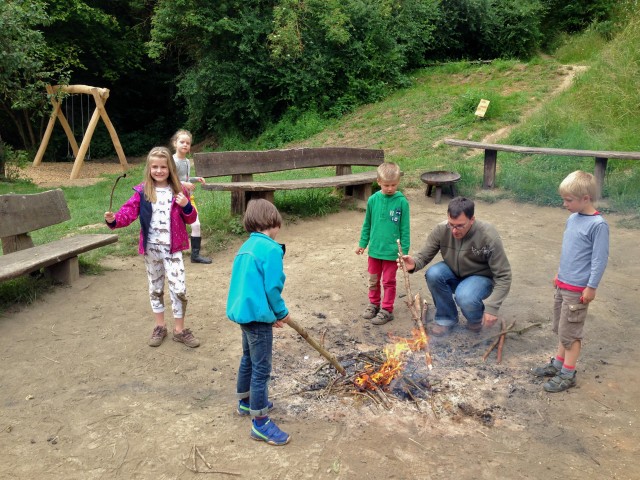 The kids were THRILLED about all of the camp fires!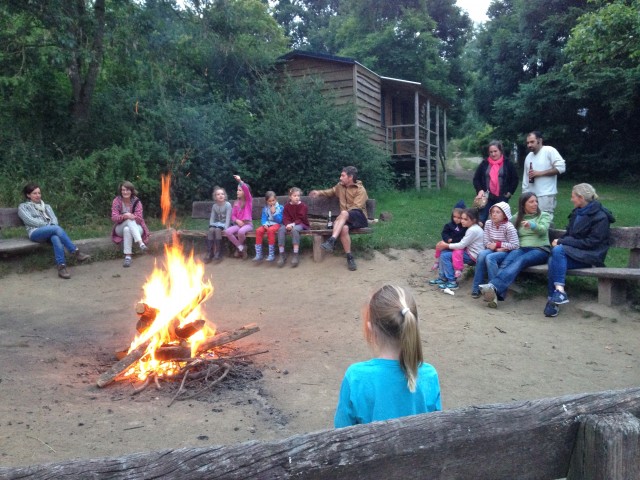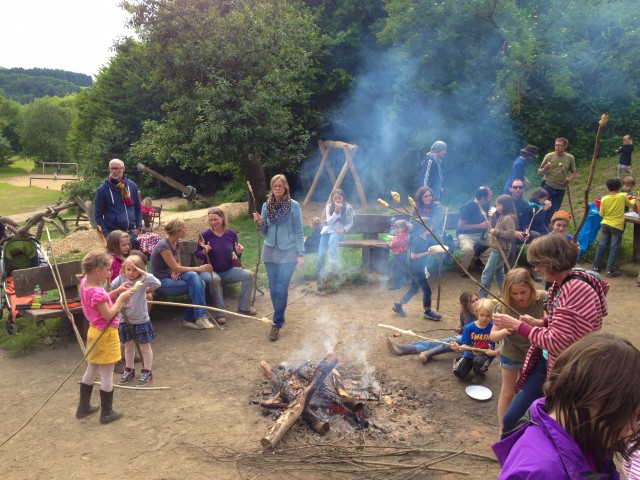 That's bread dough wrapped around the tops of those sticks.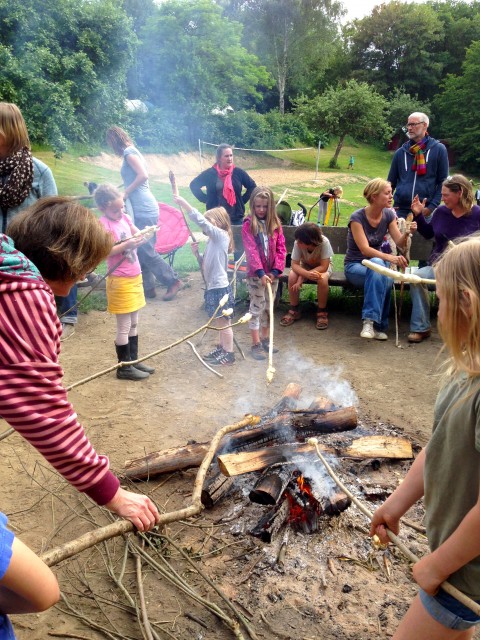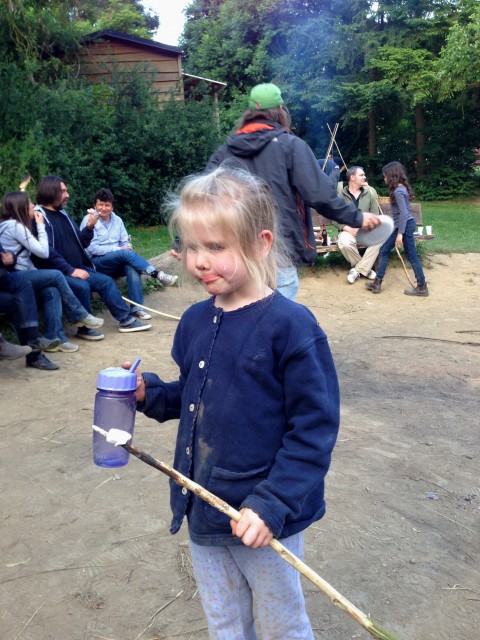 Somebody brought a bag of marshmallows to toast and Kiera was in heaven. They're hard to find here and she's really missed them.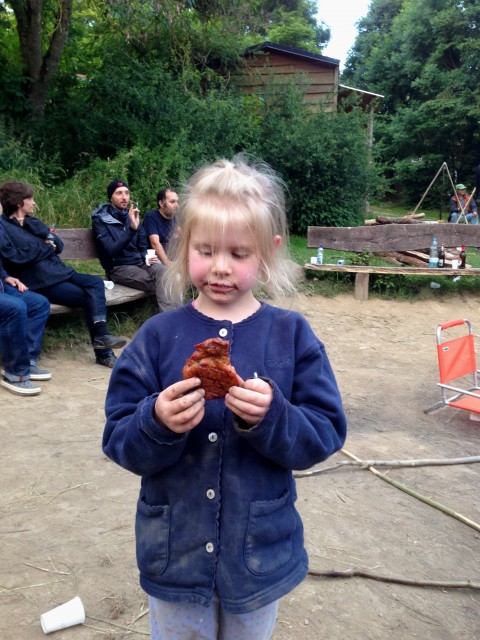 camp fire-roasted chicken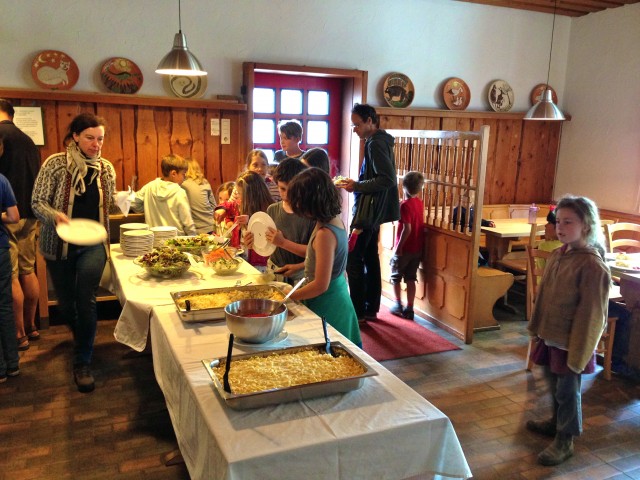 There was a Dining Hall for simple meals.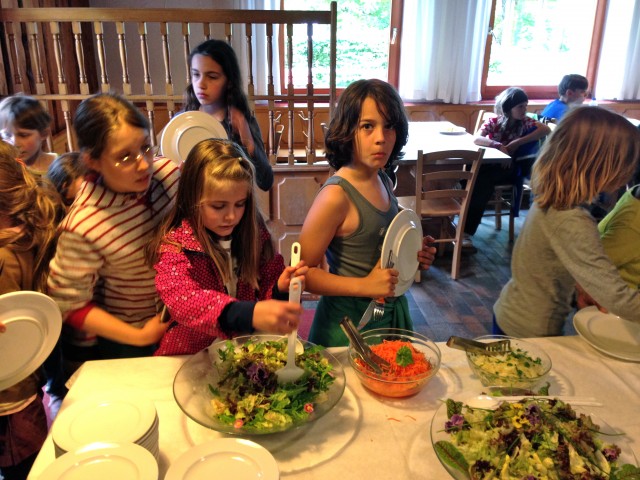 That's cousin Maxim in line (in front of Quinnie).
Simon said that at night the parents stayed up late to watch World Cup games, drink wine and beer, and sing songs around the campfire.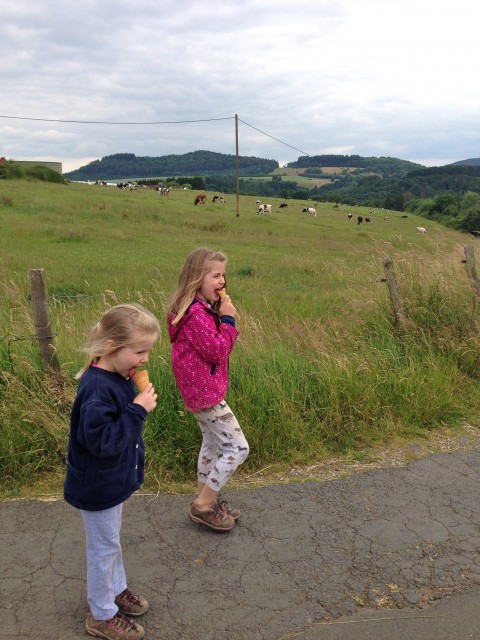 There was a farm there that made their own ice cream (with the help of those cows you see in the pasture behind the girls).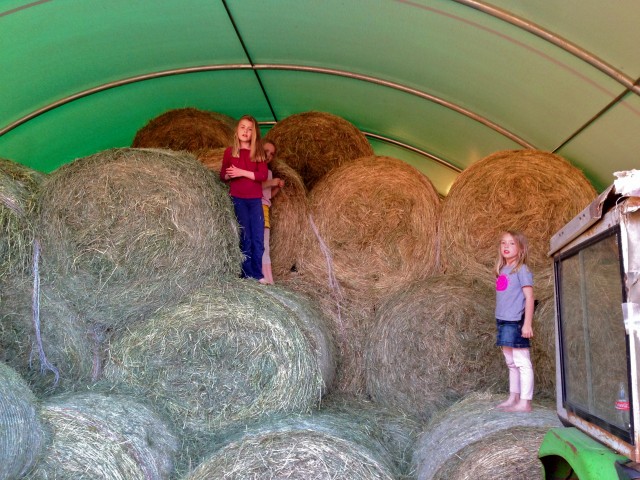 The farmer was really nice and let the kids climb on his hay bales and hang out with his animals.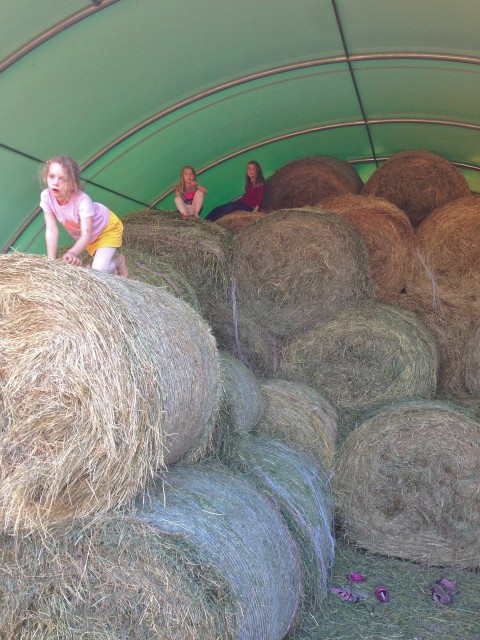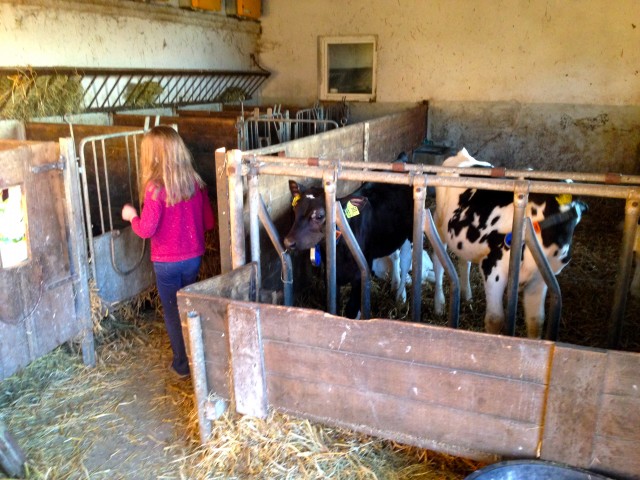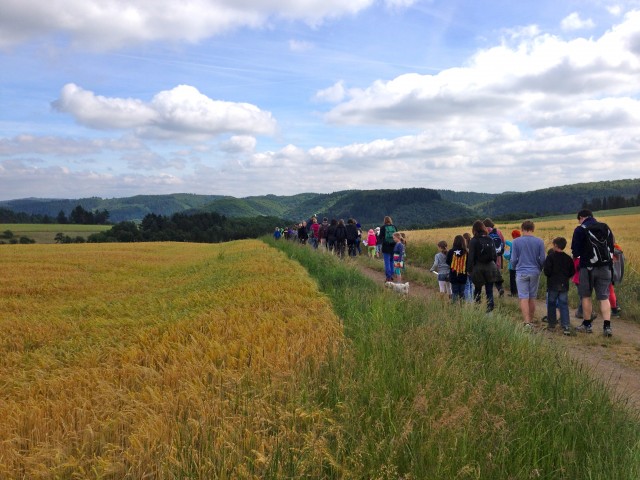 The whole group went on a four hour hike through the woods that ended at some medieval ruins.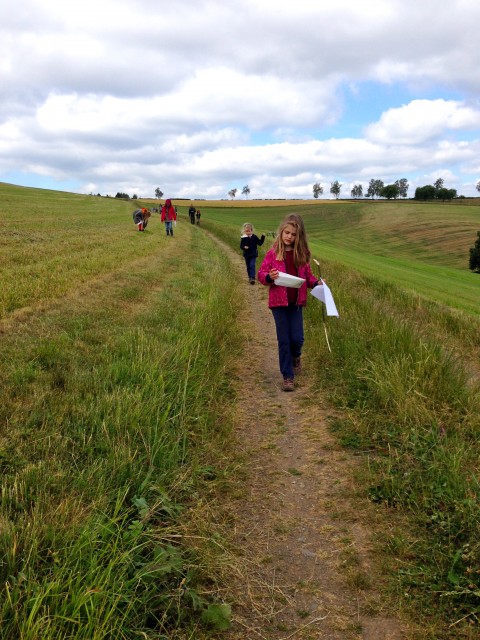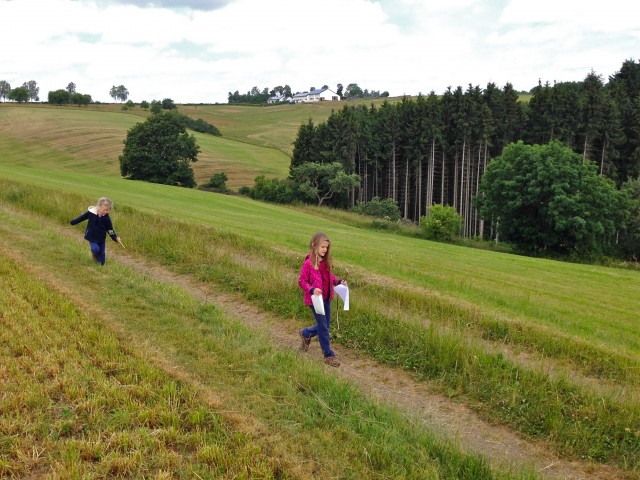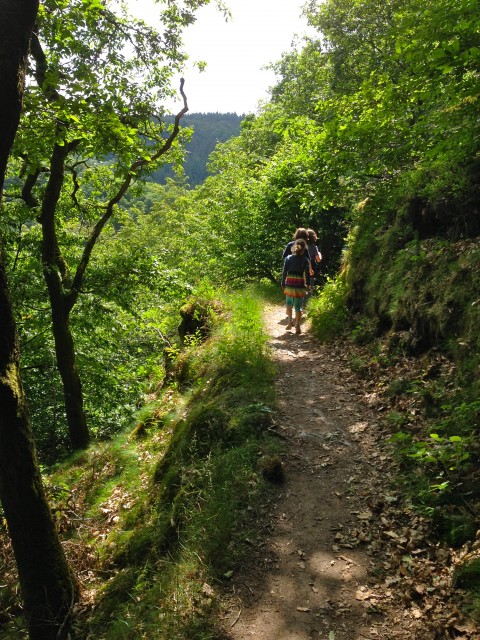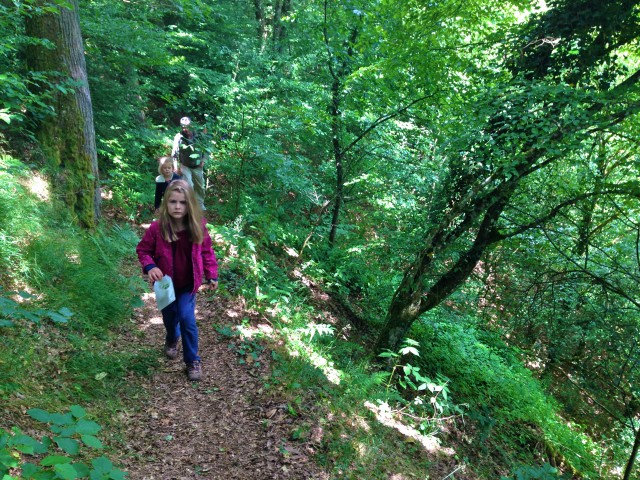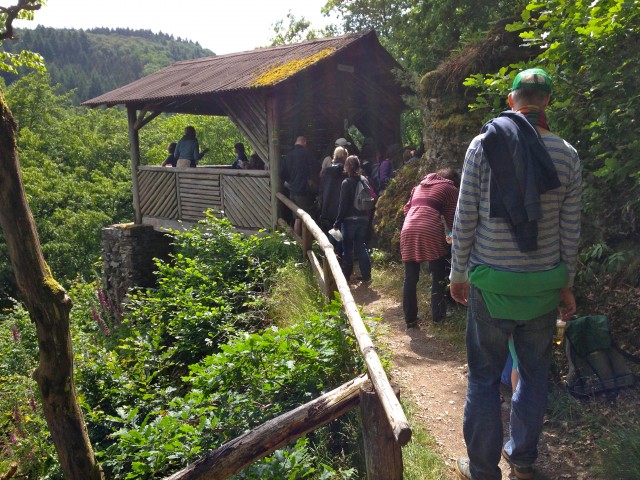 Rest stops..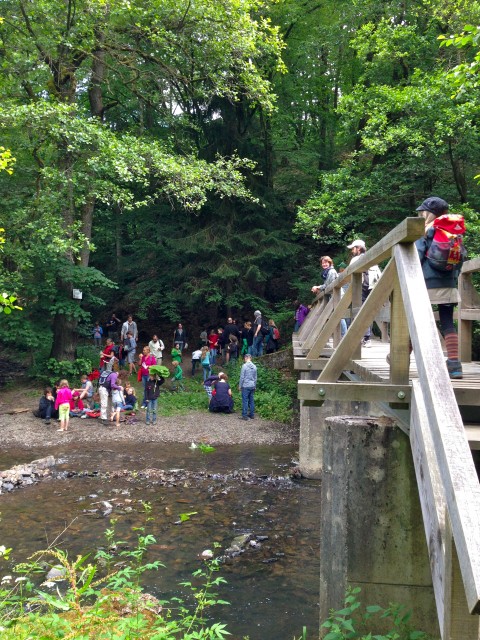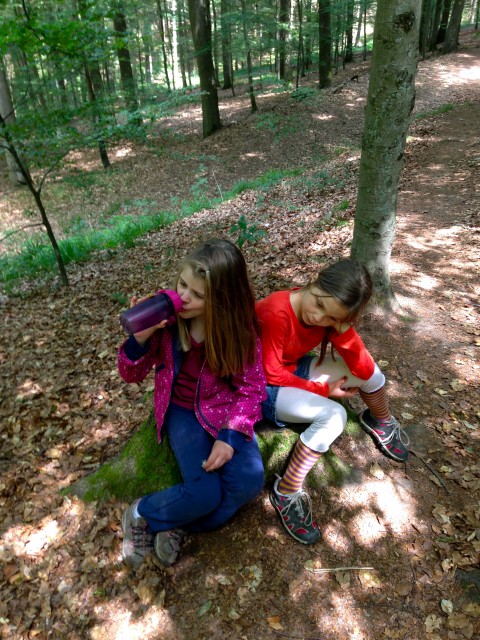 Quinnie and Julia taking a break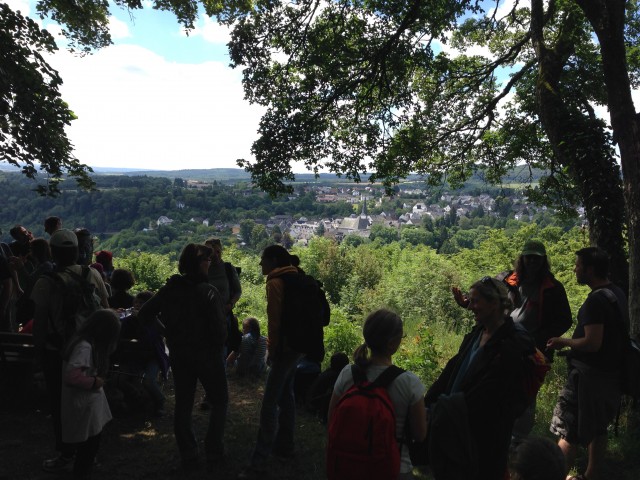 view of Manderscheid below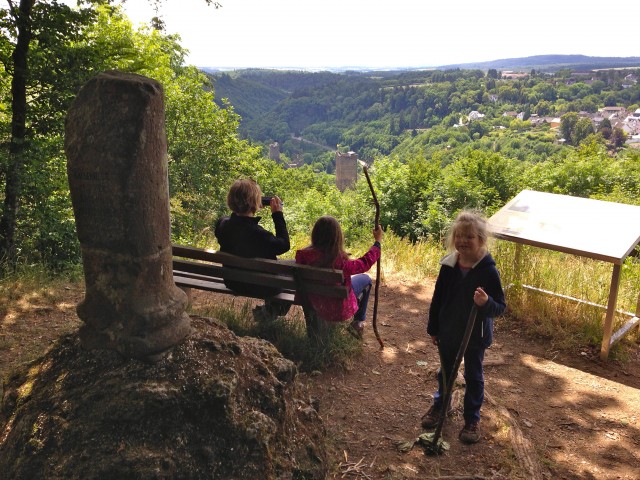 Tante Ruth and Quinnie taking in the view (on the bench). I love that Quinnie and Kiera have walking sticks (lol!).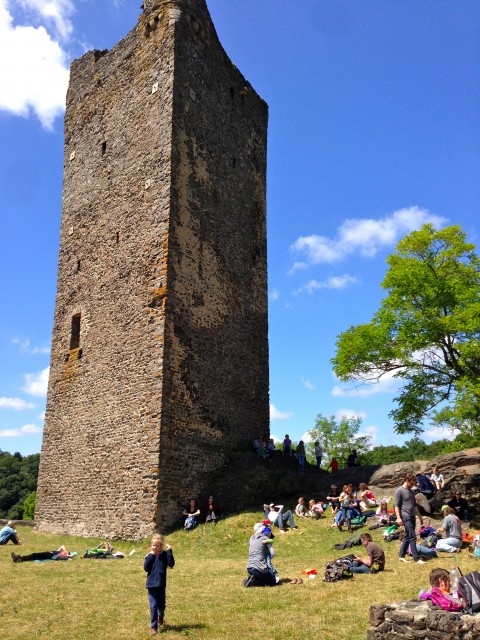 Finally there!!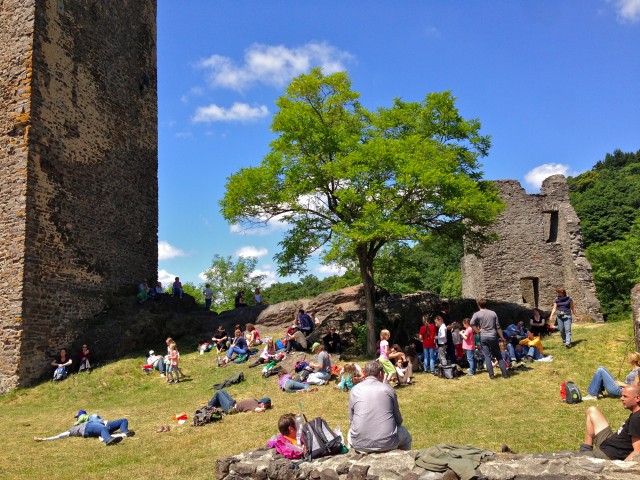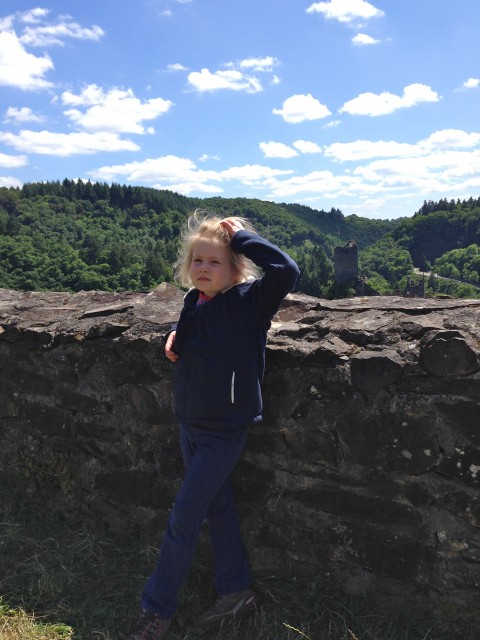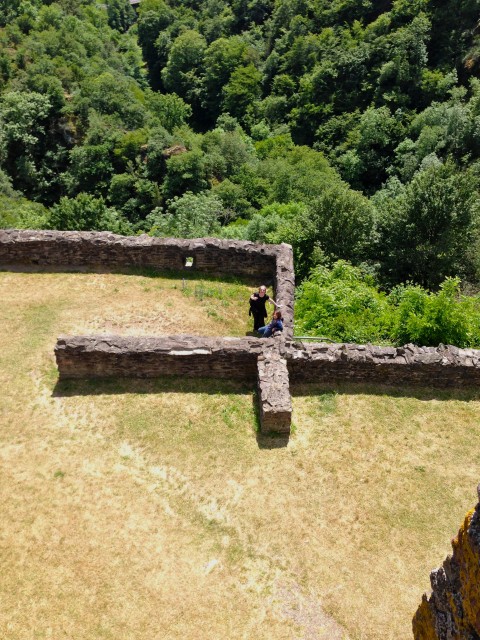 Tante Ruth and Maxim from above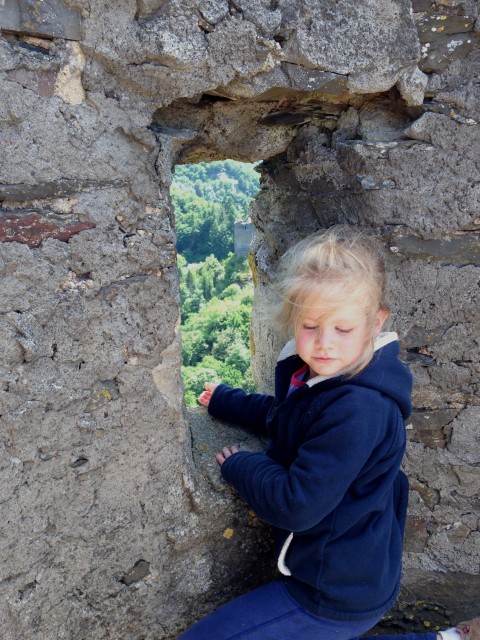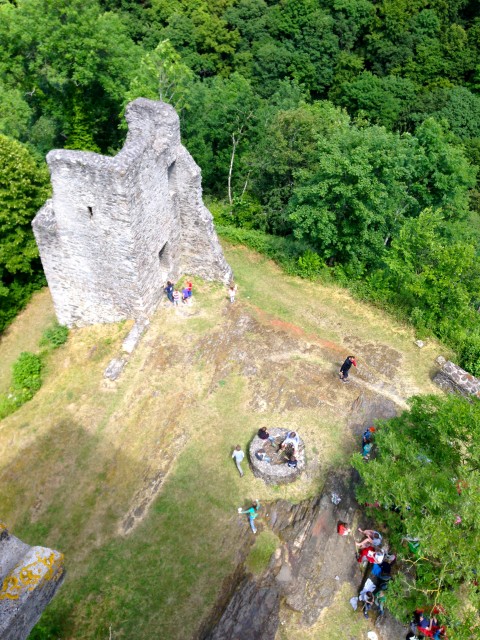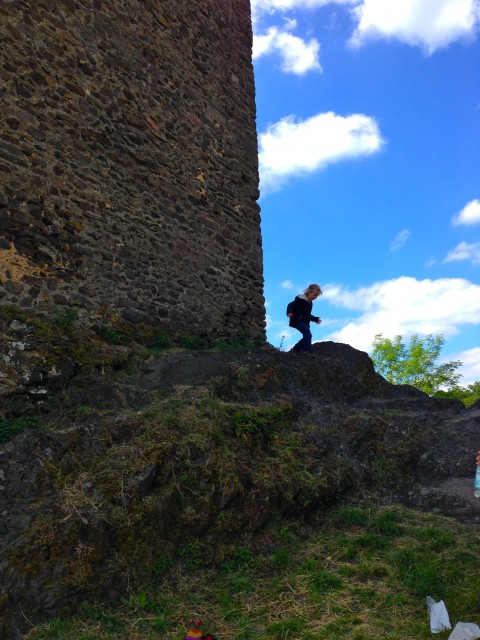 Kiera exploring the ruins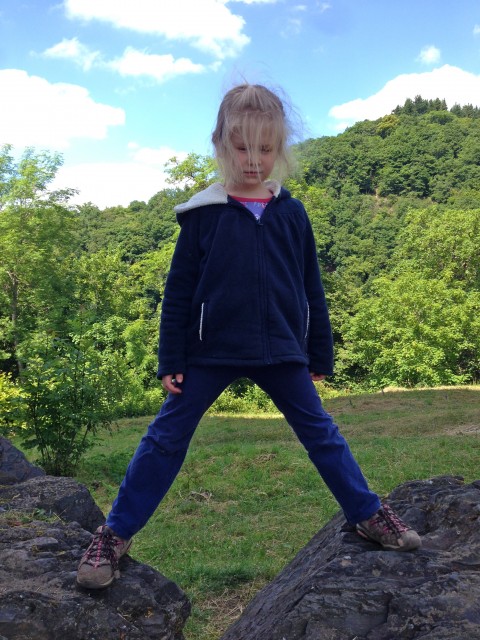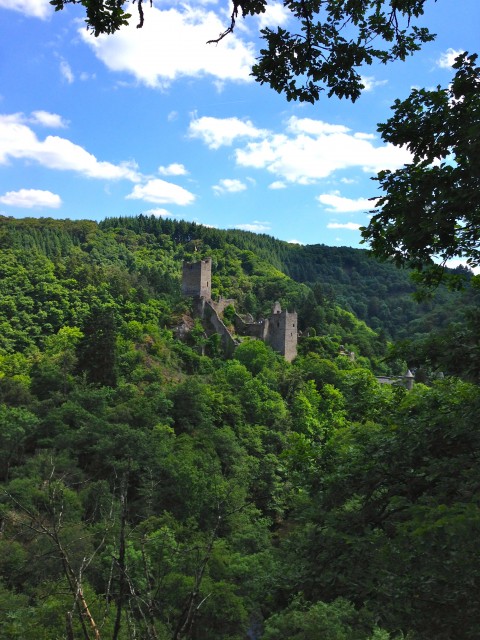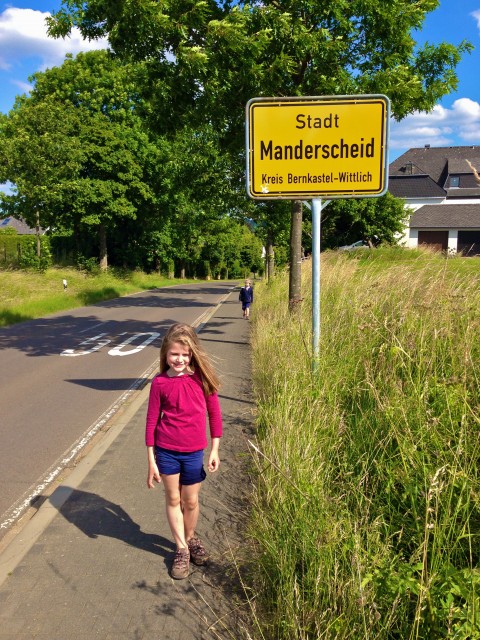 At the end of the hike they headed into town for some ice cream (and climbing!).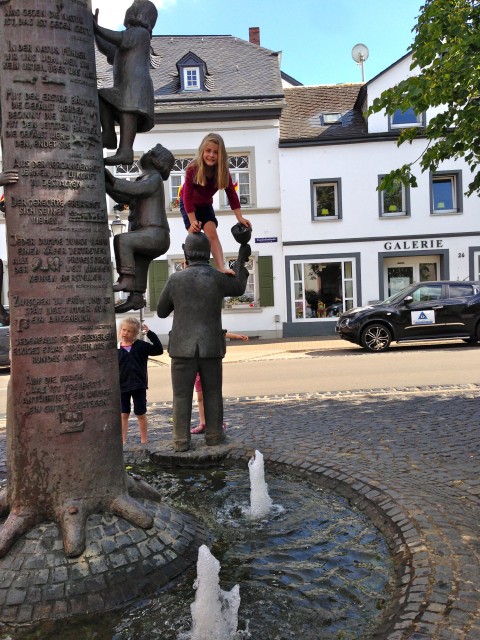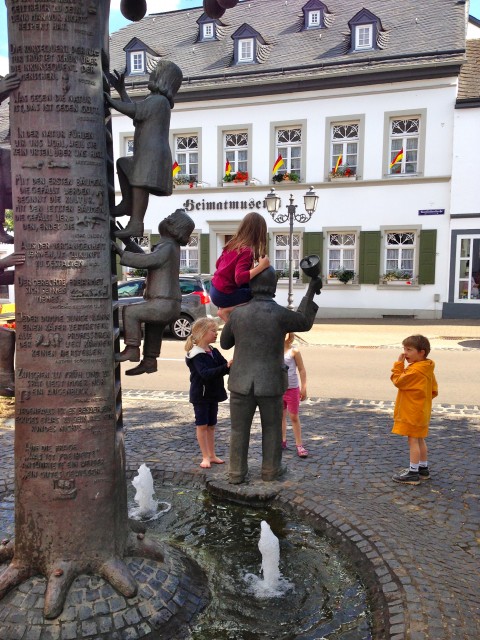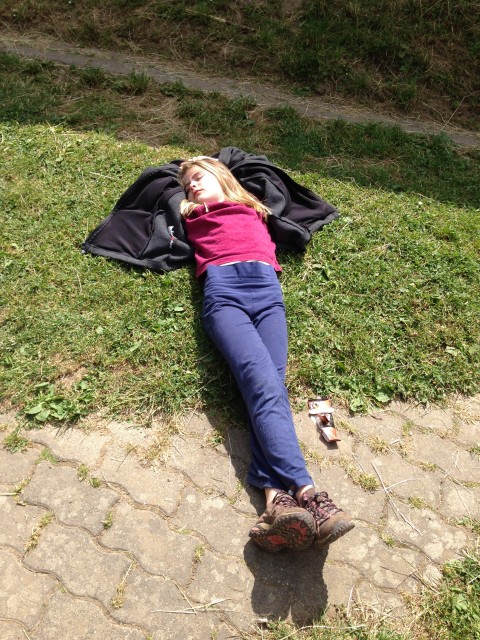 finally tired out!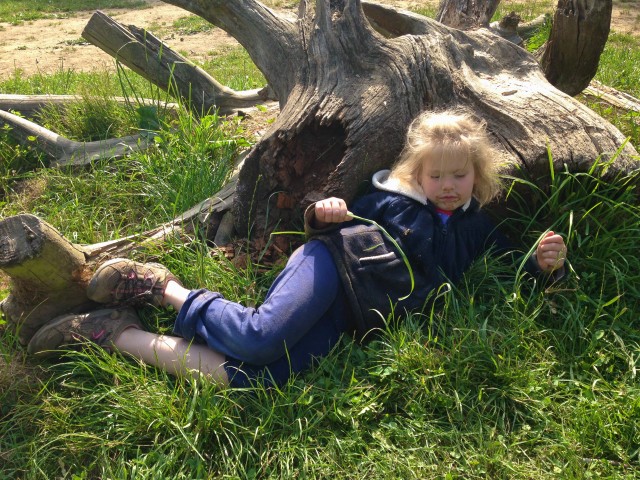 Can you guess what flavor ice cream Kiera had (lol!)? I'm going with chocolate…
The next day there was a swimming trip to the nearby lake planned, but Simon and the girls came home early because Quinnie had a fever.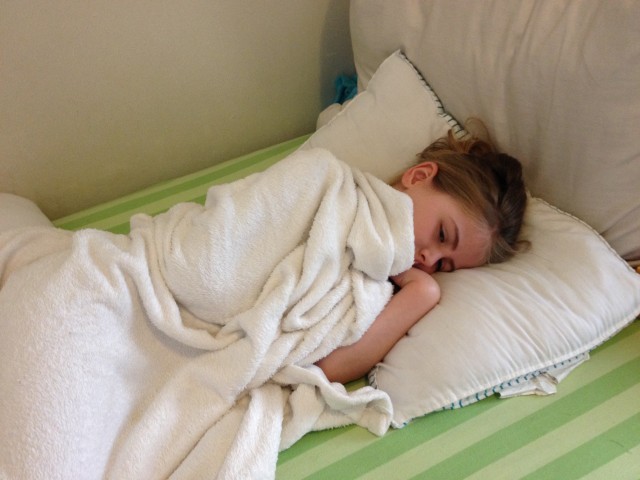 I was happy to give her LOTS of Mama cuddles. We also read books for 6 hours (no joke!). I think we read most of the books on these bookshelves (below).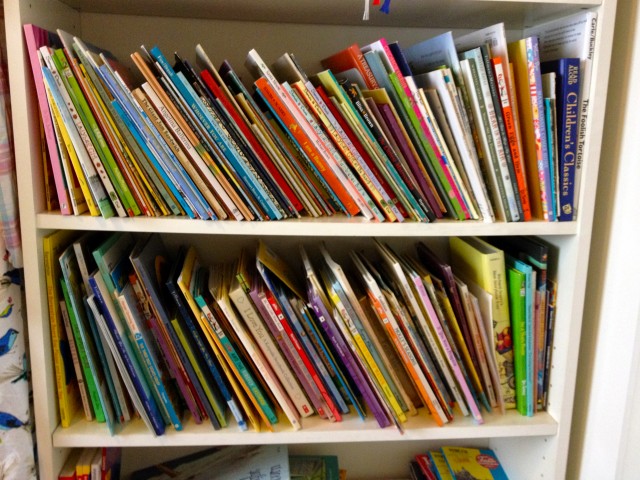 What a great experience for the kids! I love Quinnie's school (and so does she). The next post is about her school as well…
Special shout out to Papa for taking some great pics (and for bringing our girls back alive)!