Both of the girls' birthdays fell mid- week this year so we decided to just do intimate family celebrations on their actual birthday. Later we will have a big joint birthday party for both of them (and their friends) at Silly Billy's (a huge indoor play area with jumpy castles and slides, climbing walls, etc., etc., – kid paradise essentially). Living in San Diego we could just have their party outside at an awesome playground/ park. I had forgotten how challenging it can be planning a kid's birthday party in the winter with a colder, rainy climate.
The night before I made Quinnie's birthday cake- she gave me very specific instructions on how it should look. Chocolate cake, white frosting, with the number "7" in GREEN m&m's only. This is how it turned out…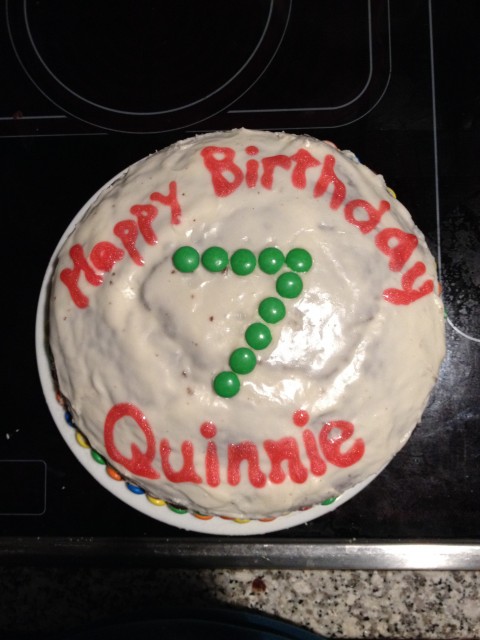 Odd thing about Germany- birthday cakes aren't a big thing here. I've found it hard to even find cake mix at the grocery store (and when I do, there are only a few options), never mind a ready made cake. I've also never seen ready made frosting to buy. I guess most people here make their cakes from scratch? Another strange (to me) thing- it's usual for the birthday person to treat everybody/ pay when celebrating with friends- the opposite of how it is in the States.
After the cake was done I wrapped her presents and decorated a little bit.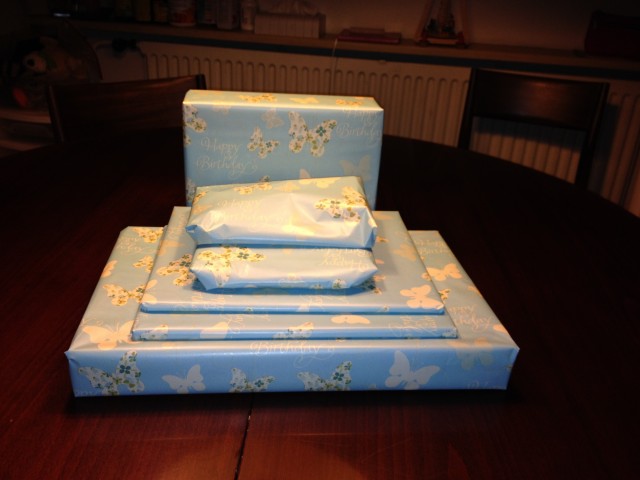 We don't go overboard on presents for their birthdays (or Christmas) and they have never complained. Usually just one or 2 presents from us and the rest of these are from family in the States. I've found in the past that they are happy with just a few and more than that is more than they need.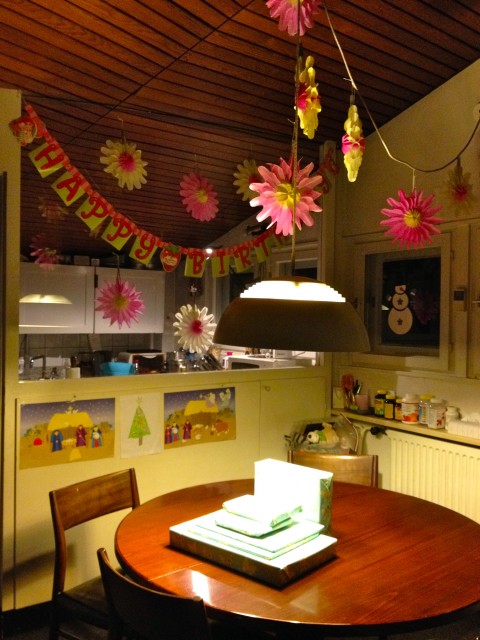 The girls know that they will have a present waiting for them right when they wake up. When I was making Quinnie's cake I had Simon put her to bed. He let her go to bed naked (of course not thinking about the fact I would be taking pictures in the morning (lol)! Here she is spotting her present-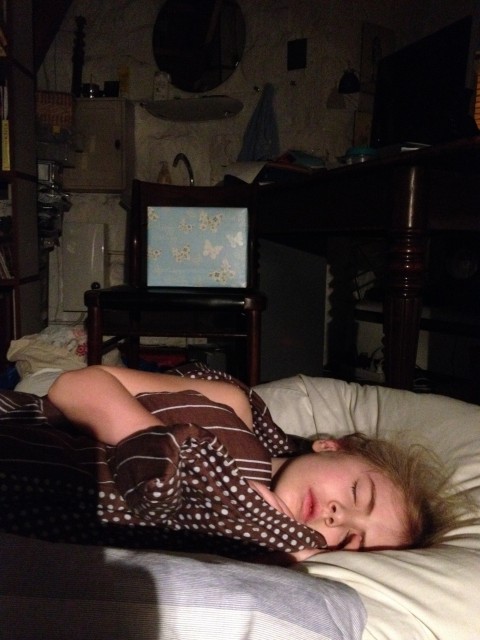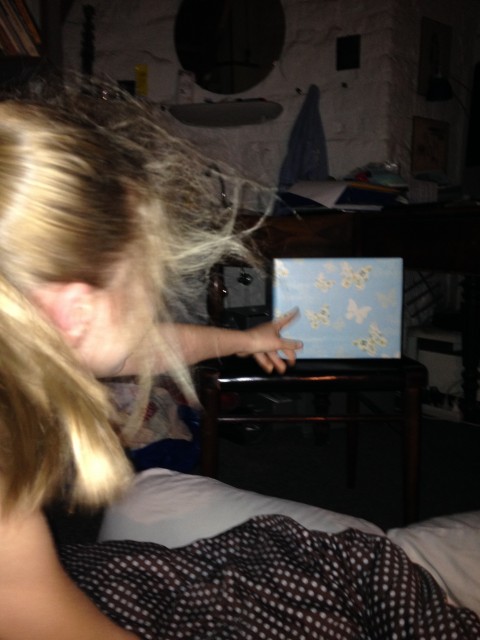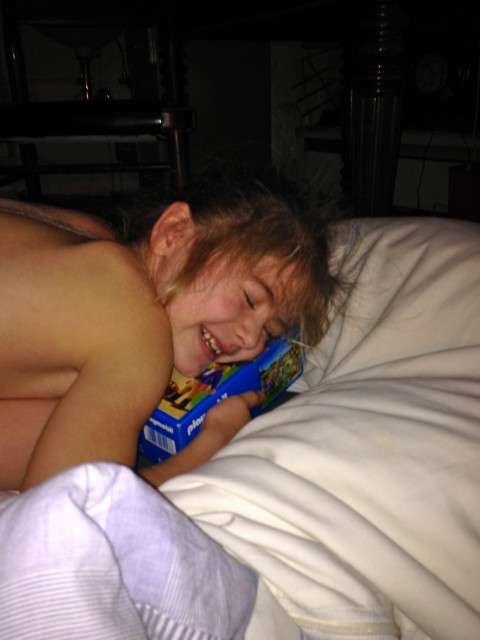 As you can see, she LOVED it! (It was a Playmobil – HUGELY popular here). About 10 minutes after opening this present she gave me a big hug and said "I love my present Mama, but you're the best present of all." Is this kid for real?! She has the sweetest heart. The day before her birthday we stopped at a store and she was telling the cashier that it was going to be her birthday tomorrow (she was telling everybody she saw that day- strangers included-lol). The cashier very kindly let her pick out a free lollipop. Quinnie immediately asked if her sister could have one also. When she gets treats she often saves half for Kiera (even if Kiera isn't there!) without us even suggesting it. I love her kind heart.
Quinnie got to bring a huge box of Dunkin' Donuts to school to celebrate her birthday with her classmates. By the way- how crazy is it that they have Dunkin' Donuts here but not in Southern California?! After school the two of us went to a Weihnachtsmarkt where she got to pick out some treats for herself. She wanted some gem stone rocks and a ride on the Merry-go-round.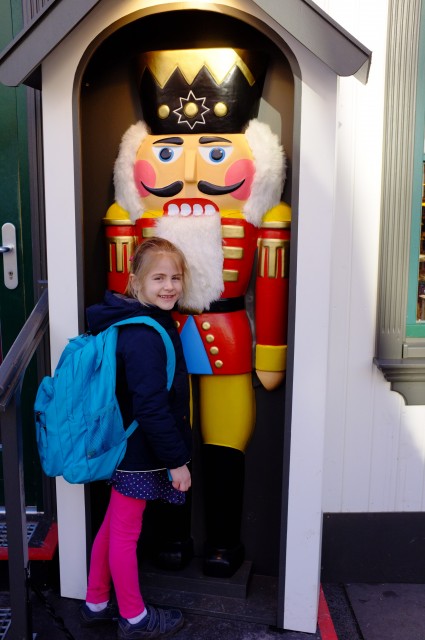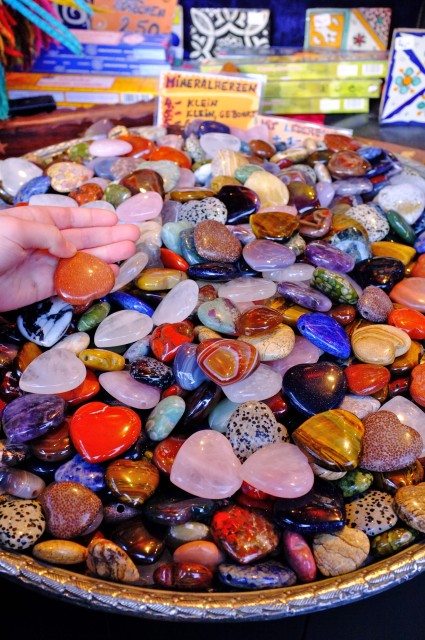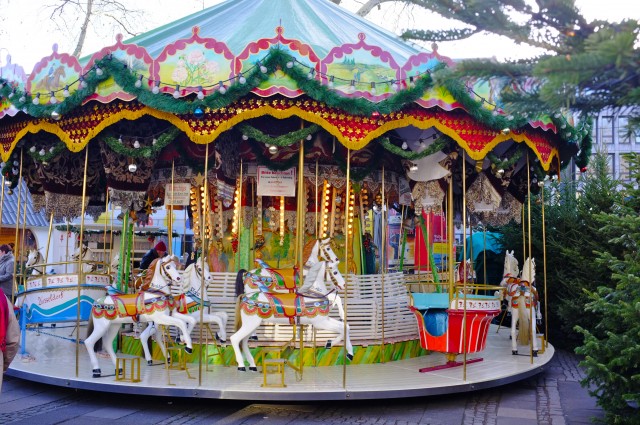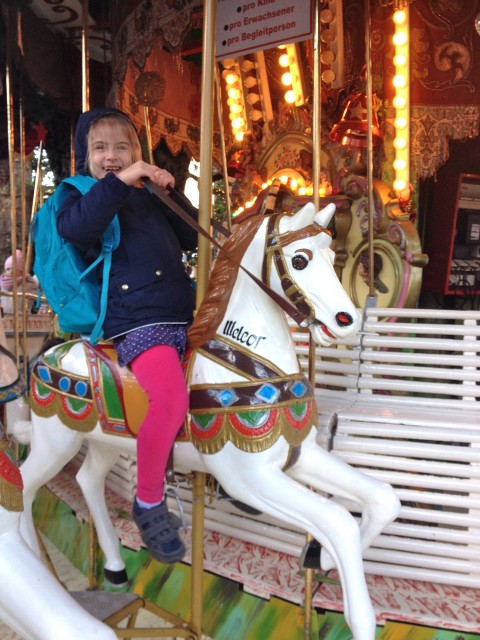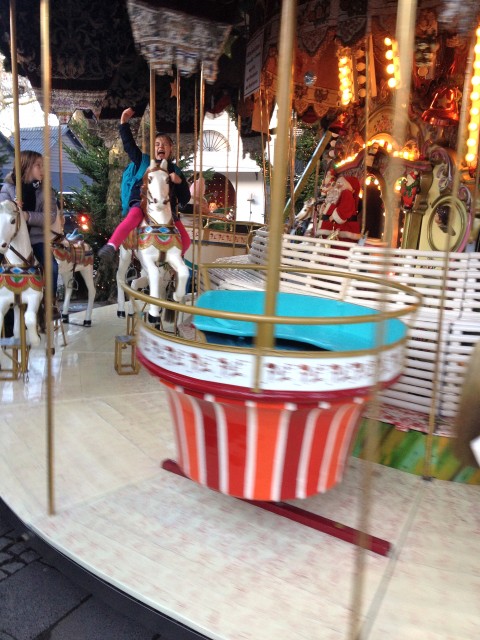 Then Oma, Opa, Ruth and Maxim came by for dinner and a little celebration. Oma gave Quinnie some new knitting looms (they love to knit together- good thing because I don't know how to knit at all). She got her first diary with a lock on it (she loves it!) from Tante Ruth, and the game "Operation" was huge hit. She also loved the building and circuit games and other Playmobil that she got from her Aunts/ Uncles/Cousins/Grandparents in the States.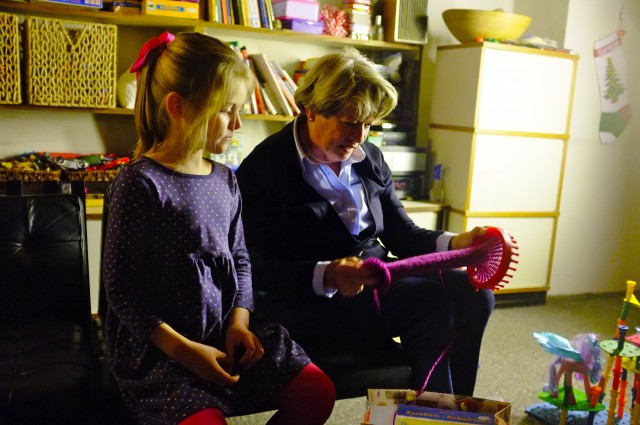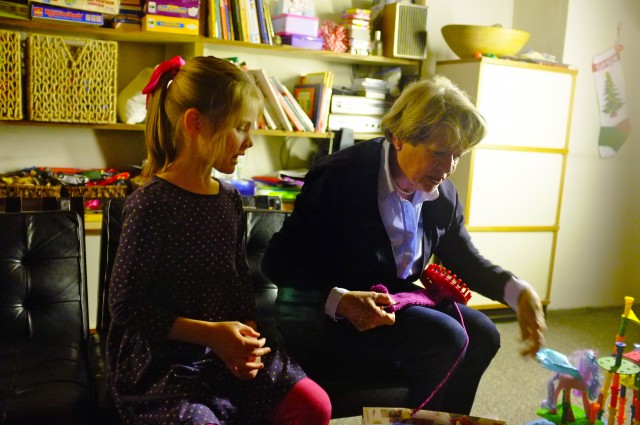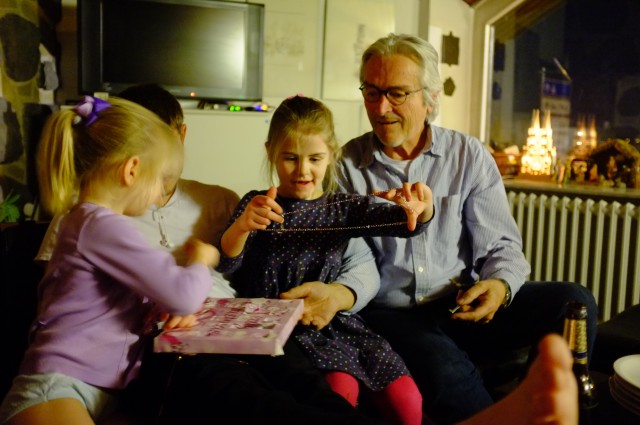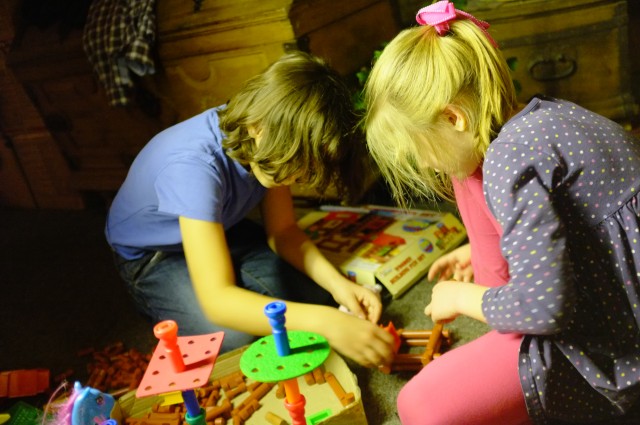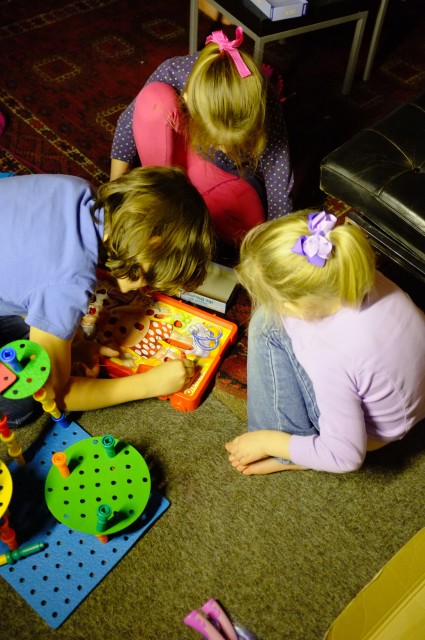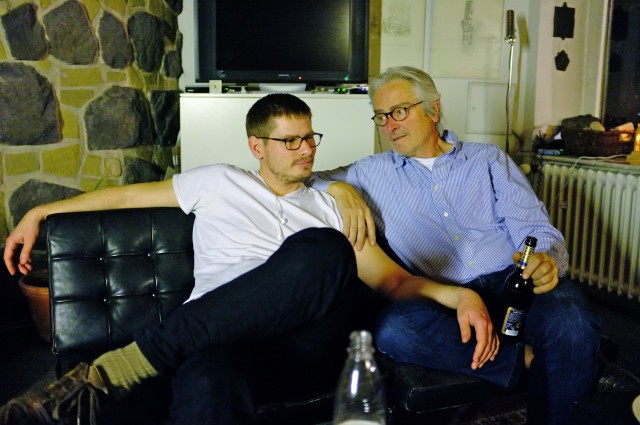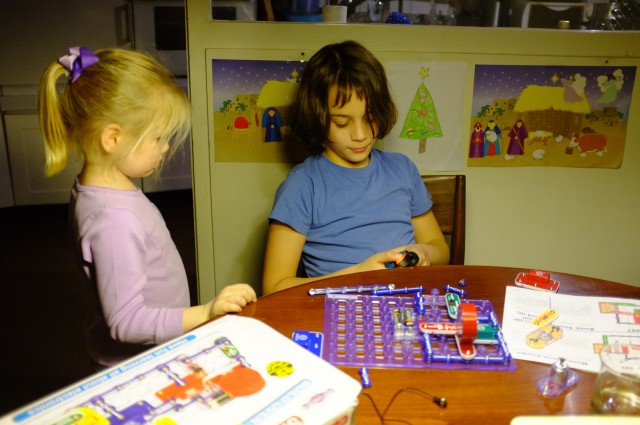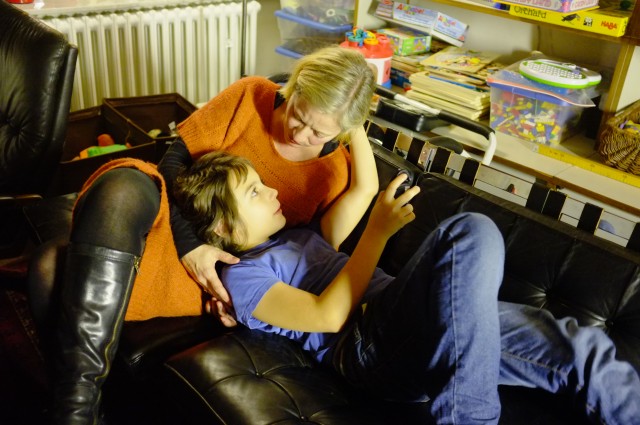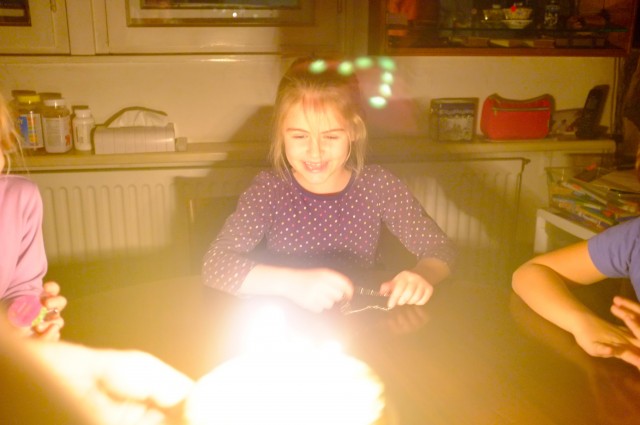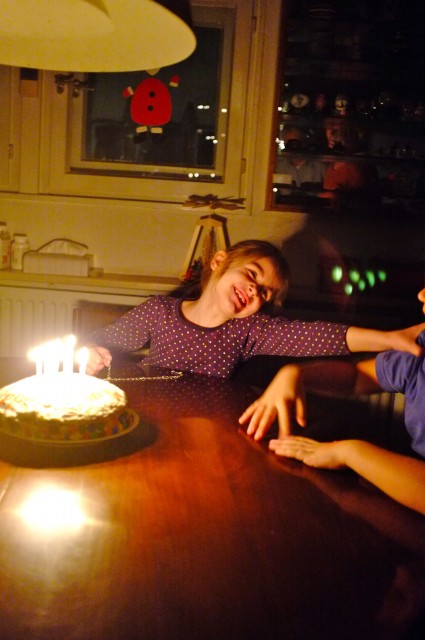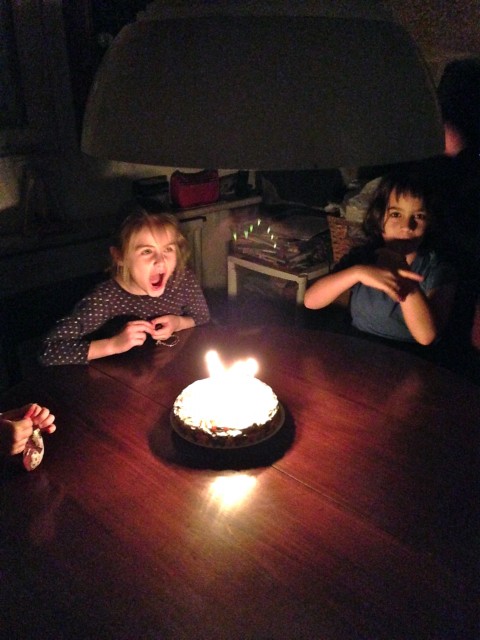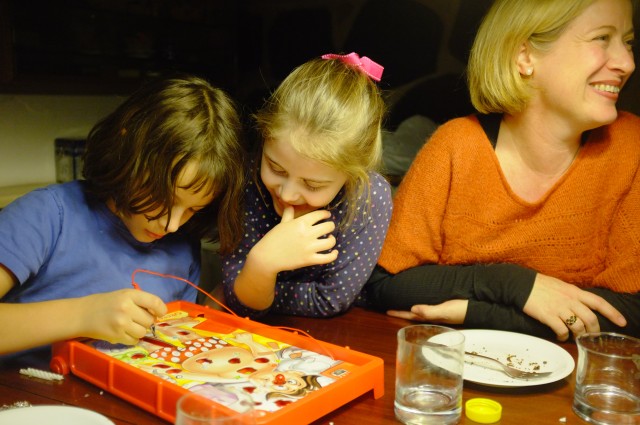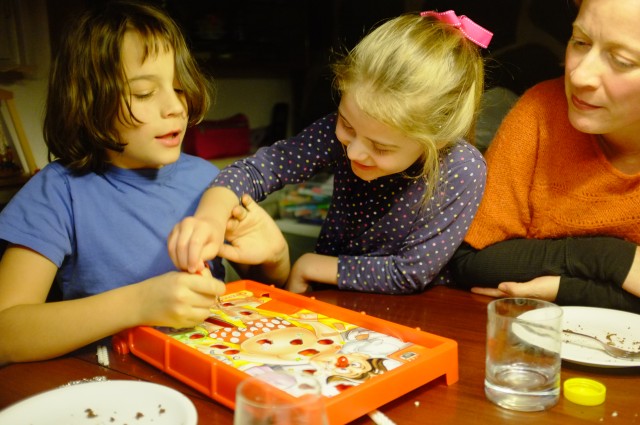 It is so nice having family around again to celebrate birthdays with.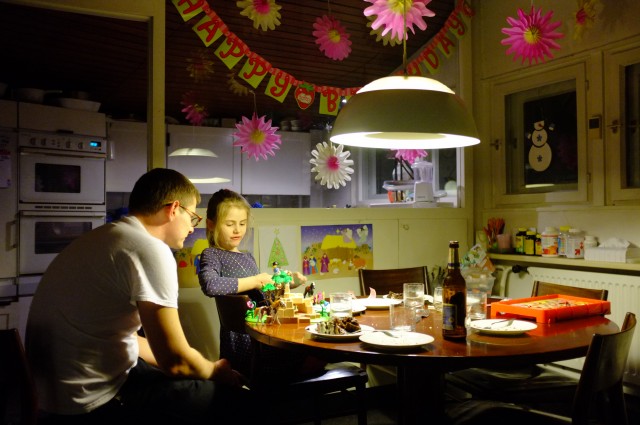 Quinnie showing Papa her Playmobil. Happy Birthday sweet girl. We love you SO much!