It is an understatement to say that Fußball in Germany (and Europe in general) is popular. During the World Cup, it is CRAZY. Maybe because it happens only every 4 years? And why is it not that popular in the States? Especially since so many kids there grow up playing it- I mean, the term "soccer Mom" has to come from somewhere, right?
The World Cup seems to be the only time when Germans outwardly show their national pride by flying their flag (VERY different from America – where we fly our flags everywhere all year long).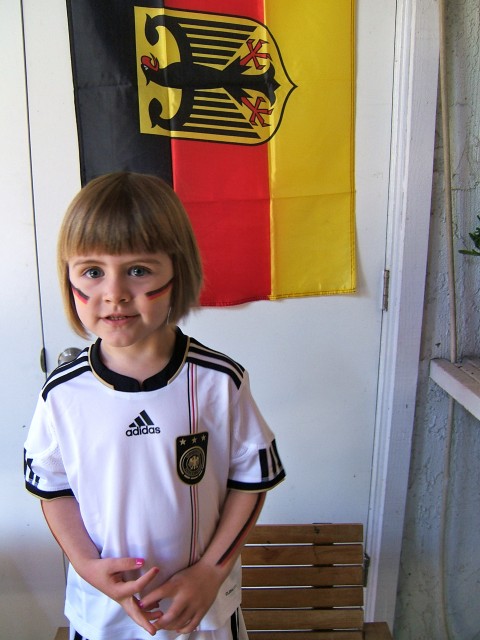 Here's a picture of Quinnie during the last World Cup when she was 3 (in San Diego). Opa was kind enough to send us some Germany gear.
I haven't been very good about taking pics of all the craziness here- but here are some…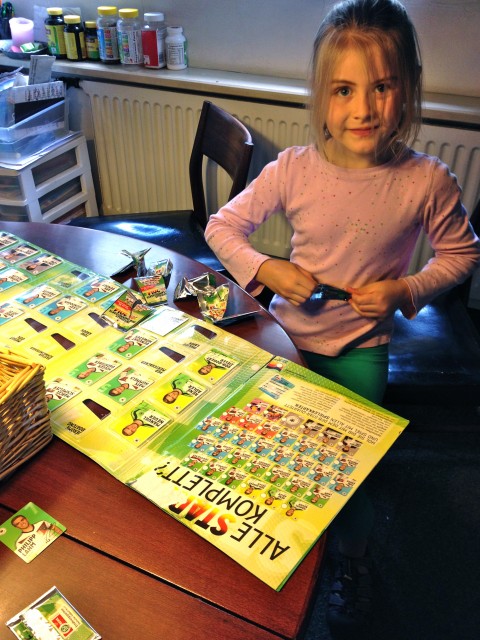 Most of the kids here have these German Fußball team binders that you get from your local Rewe grocery store. Inside it shows pictures of the whole 2014 German Fußball team. Every time you go grocery shopping they hand out a stack of collectible cards of all the different players. They are wrapped so you don't know who you'll get. The object of the game is to collect all of the team players and put them in their proper spots in the binder. Then you have a keepsake to remember the 2014 World Cup forever. Quinnie's pretty into it- Kiera not so much (this year at least).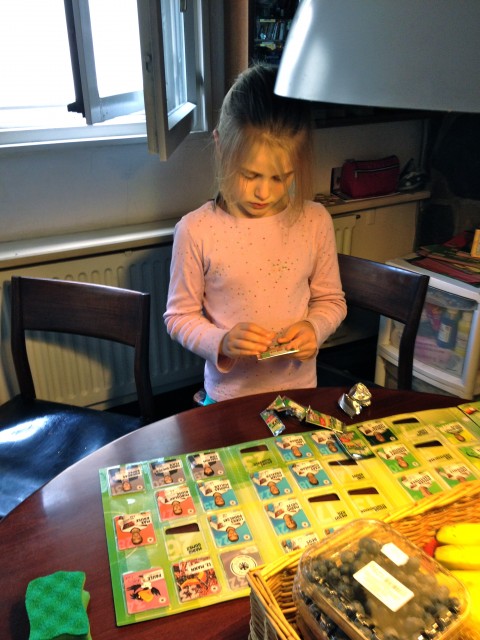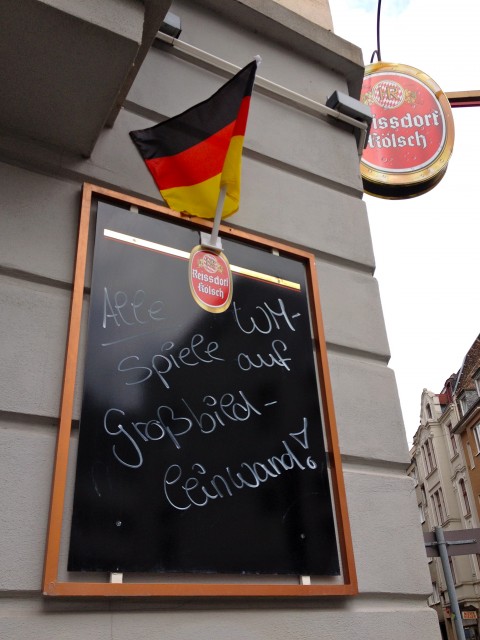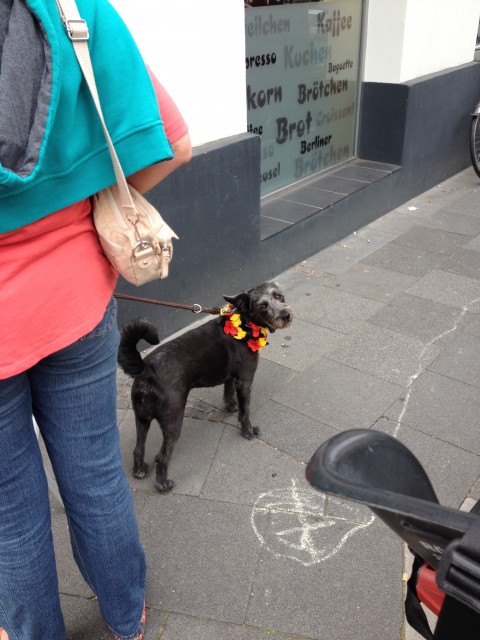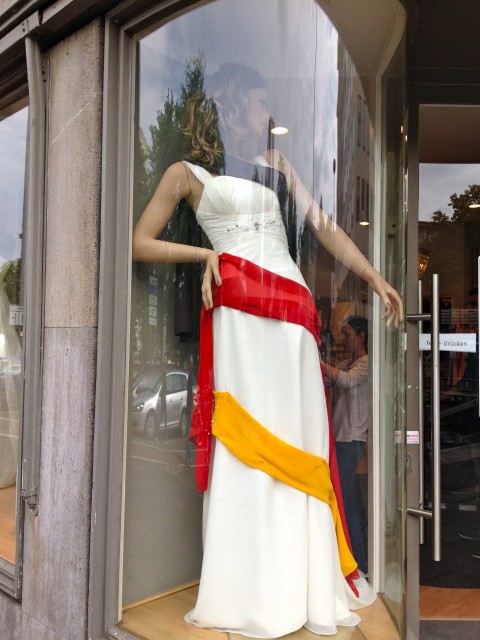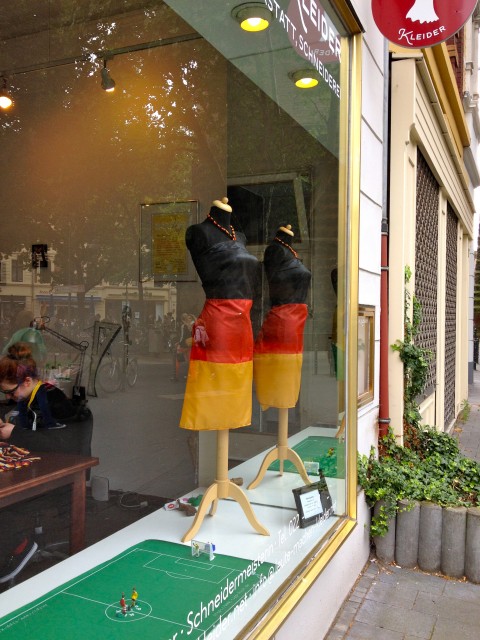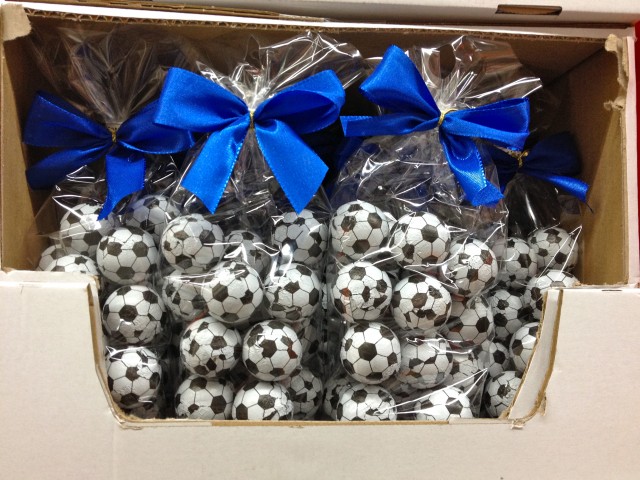 chocolate soccer balls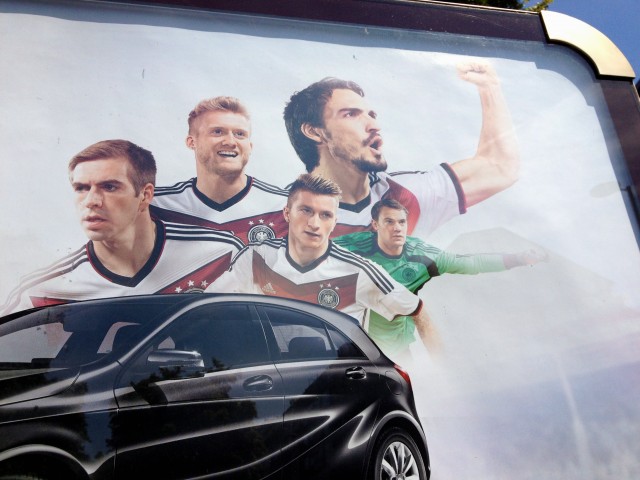 If you think American sport stars are paid a ridiculous amount of money, you don't want to know how much Fußball stars make here! It crazy (in my opinion).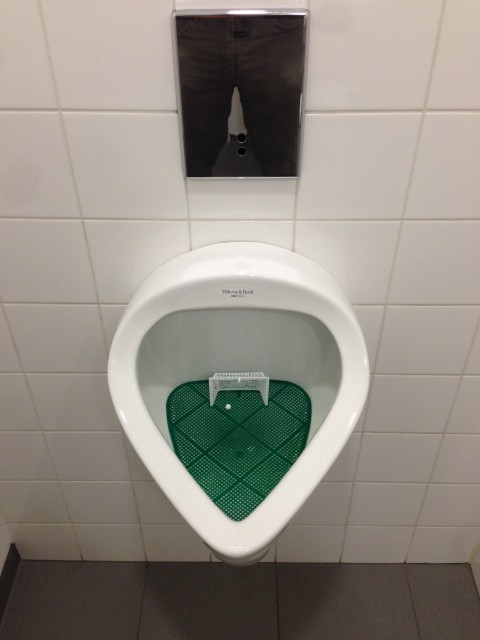 In Simon's bathroom at work…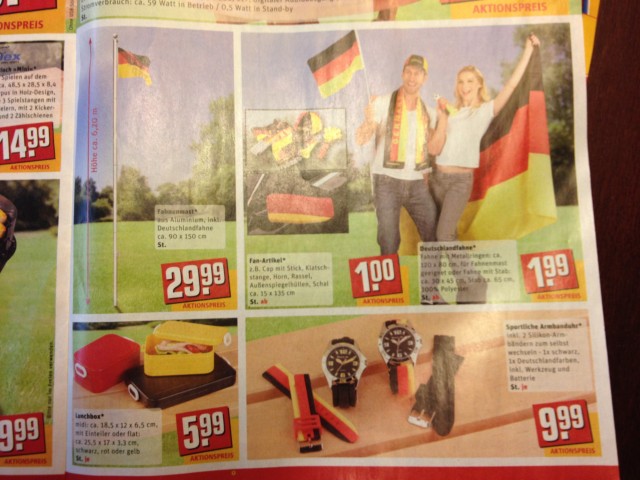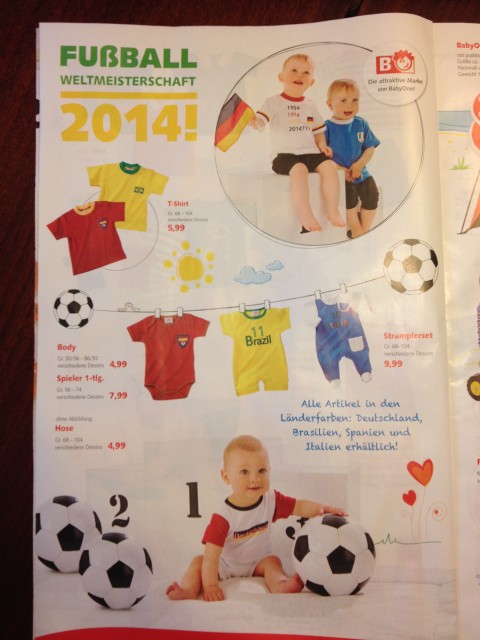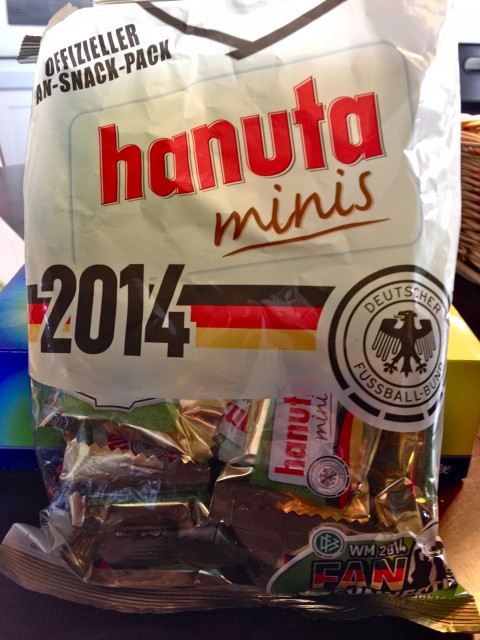 Lots of products at the grocery store have been specially repackaged for the World Cup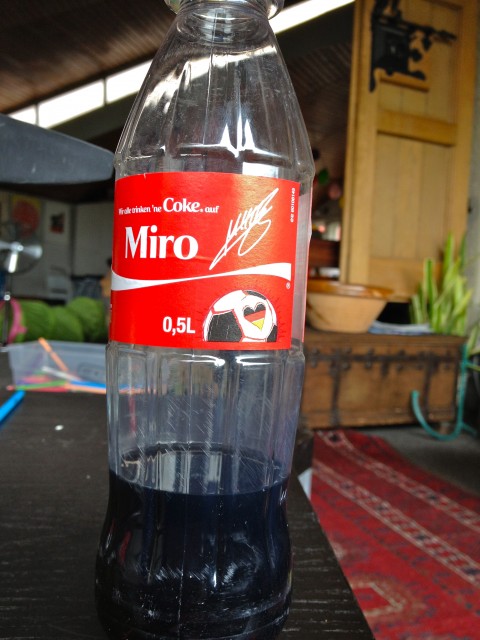 Even Coke and Snickers are in on it! (among MANY others)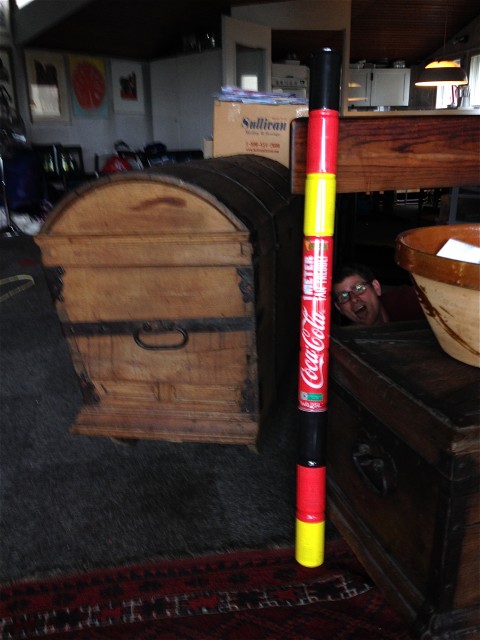 Check out these Cokes that are specially packaged for the World Cup. (And check out my crazy husband behind them!).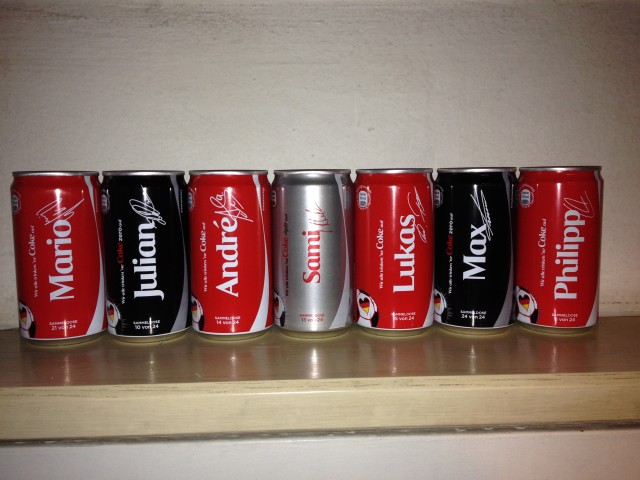 This is what they look like unwrapped- each can has a German team player name on it!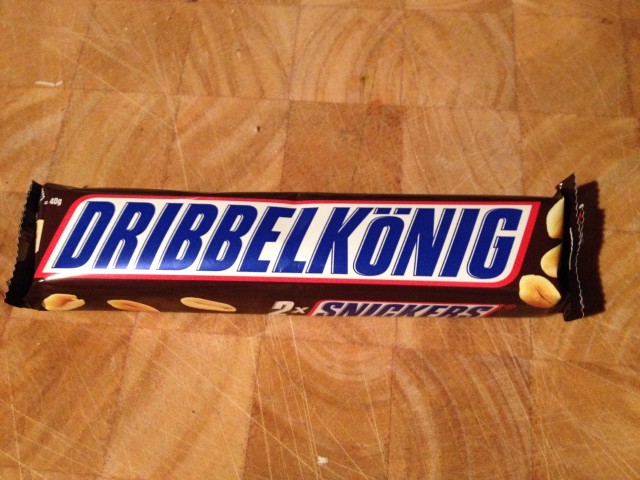 "Dribble King"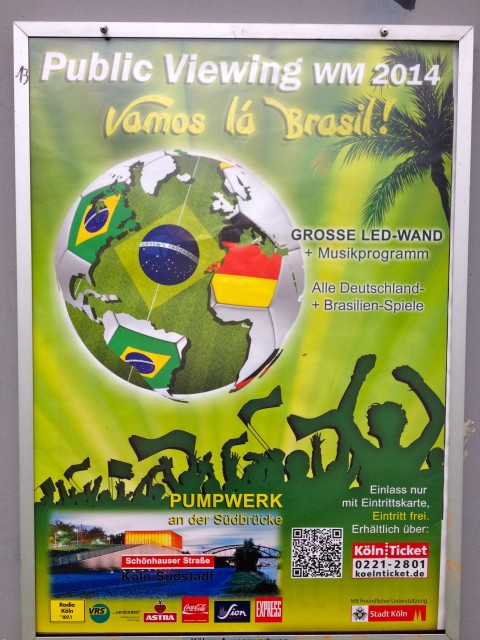 Check this link out– it'll give you an idea of what a big deal the World Cup is here…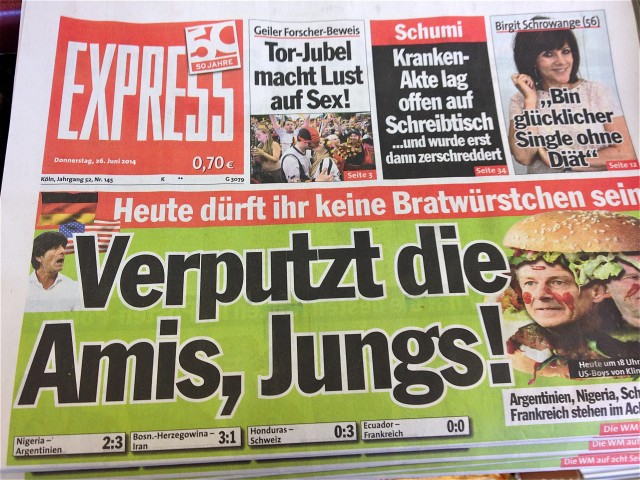 Yesterday was the big game between Germany and America. This was on the front page of the newspaper (above). It loosely translates to "Crush the Americans, boys!" While the Germans won (1-0) I am happy to say that they didn't "crush" America like so may thought they would. Simon said that the German team is technically much better but that the Amis had a strong defense. I couldn't watch the game- I can't handle the stress.
Below is a pic I took at Kiera's school. They had a big board where the parents could bet on what the final score of the game would be.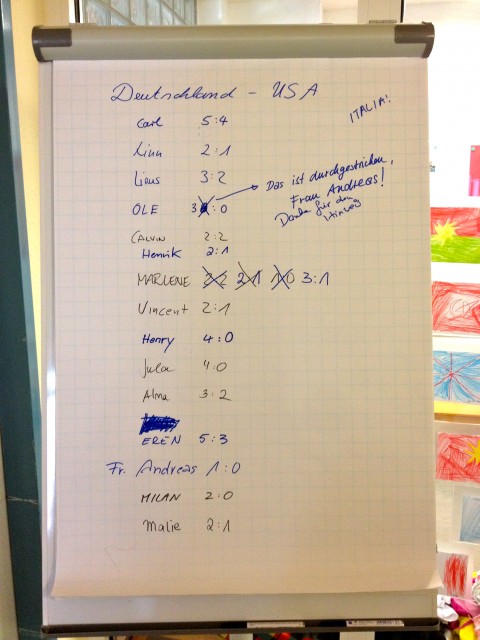 As you can see, expectations for the Amis (I love that nickname for Americans by the way) weren't very high. So America makes it into the next round and gets to play again!
This is what Kiera thinks of all of the hubbub (below). Simon took this pic of her while they were watching a game. Neither of the girls is that into it this year. If we are still living here in 4 years for the next World Cup (they'll be 9 and 11 then!)- it will be interesting to see if they're more into it then. I have a feeling they will be- having been immersed in this crazy Fußball culture!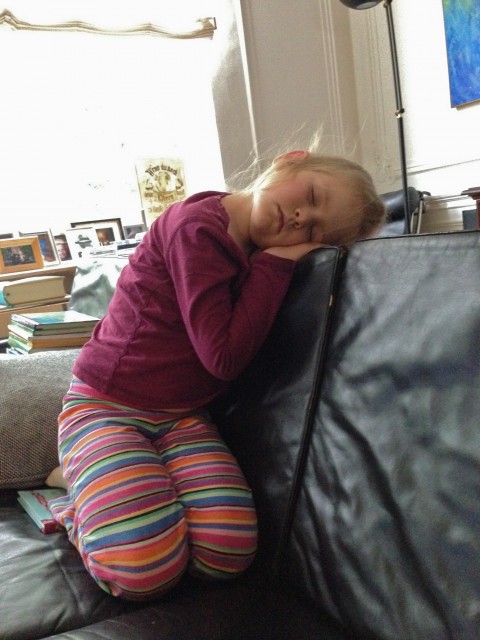 Go Amis!!!